Stokeley the Slump God
An explosive album by Ski Mask the Slump God
Hang on for a minute...we're trying to find some more stories you might like.
    On Nov. 30, 2018, STOKELEY was released by Republic Records for the public's hearing. STOKELEY is a heavily anticipated album among many, including myself, by a musical artist named Ski Mask the Slump God. The album is called Stokeley in reference to his real name: Stokeley Goulbourne. The album consists of 13 songs, and what makes this album more interesting is the featured artists. Familiar artists such as Juice WRLD, Lil Baby, Lil Yachty, and one not so familiar, Austin Lam, came up with lyrics to their own verses that spiced up the songs they were featured on and offered different flows throughout the album. The album is streamed on music apps like Spotify, Soundcloud, Apple Music, and more.
   While I felt most of the songs are good, my top six songs on the album are "Nuketown" (feat. Juice WRLD), "Foot Fungus", "LA LA", "Reborn To Rebel", "Faucet Failure", and my personal favorite "Cat P***" (feat. Lil Yachty). "Nuketown" is easily a track fans of his older music have been anticipating, as the name Nuketown references an iconic close quarters multiplayer map from all four installments of Call of Duty: Black Ops. A match of Nuketown on the video game concludes with a massive nuclear explosion that decimates the entire map, which is exactly what Ski and Juice replicated on this song. In "Nuketown", Juice WRLD, another musical artist on the rise, comes in on the track surprisingly violent with a chorus like "Cutt throat, cutt throat, cutt throat." When I first heard this, I did not even think it was Juice WRLD, because I am so used to his more soft tone that everyone who knows about him is used to. The song starts out with Ski rapping relatively soft toned and progressively gets louder as he starts yelling into the microphone in the chorus. As soon as you hear the same chorus for the second time, both Ski and Juice are yelling the chorus at once, leading into Juice WRLD's verse in which he is yelling the whole verse. Within Ski's first verse, he references TV programs, movies, and the characters. Those references include Thanos, a villain from the Marvel Universe, [email protected], a television channel, Drake and Josh, a sitcom which was aired on [email protected], Michael Jackson, The Fairly OddParents, animations aired on Nickelodeon, Bic Lighters, 2 Girls 1 Cup, Mario, Chicken Nuggets, Denzel Washington, and Spongebob.
   The music style of this album is sort of random, so you are never really sure what you are going to get out of a song. Many of the songs like "Nuketown", "LA LA", "Faucet Failure", "Foot Fungus", and "Cat P***" are more up-beat loud songs which have some hidden meaning in them, like a reference. However, there are songs like "Reborn To Rebel" that have a more obvious meaning. In terms of "Reborn To Rebel", the message is about how Ski feels about our government and how they run the country. Examples of the lyrics that contain those messages would be "And for us to survive, we need to uprise our people", "And any time I can, I take the system's hand and crumble it", and "Whenever you can make a difference, yell it out, don't mumble it." "Cat P***" is my favorite track on the album mainly because of the beat and the instrumentals. The beat has a good amount of bass, so when listening to music with headphones on full volume, it will shake the speakers built within the headphones. My favorite part about this song is when flutes can be heard in the background for a brief moment in the song and at the end of the song as well. When it comes to a message though, this track has no real message. On the 13 tracks, Ski Mask makes listeners of his music feel empowered to make their voice heard and speak out against the system, or simply to move to his word olympics and melodies. With its inventive lyrics and eclectic style, this album is a response to anyone that claims mumble rap is often unclear or incoherent and contains little to no meaning. As he states on "LA LA", "This ain't that… that ain't this" – and the contrariness, the complexity, is compelling and truly draws you in. In the final analysis, I would rate this album an 8/10. I give it this rating because most of the songs on the album were enjoyable to listen to and they made me want to keep replaying them. The album had a variety of sounds, artist, flows and was not repetitive.  
About the Writer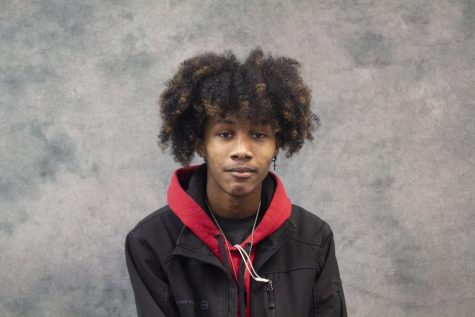 Addison Frazier, Staff Writer
Contact me: [email protected]

Addison Frazier is a junior at GLHS. This is my first year on staff. I joined this class because my friend Matt said...