GLHS Basketball is Back
Hang on for a minute...we're trying to find some more stories you might like.
   Hoops season is back at The Ledge, which means it is time to chase the highly coveted District title the Comets have been longing for decades. However, like any other season, it is going to be very challenging.
   Four-star recruit Brandon Johns is no longer wreaking havoc across the CAAC for East Lansing this year and bottom tier teams are gaining talent, making the conference a little more wide open. Even so, it still will not be easy. Key players of last year's team have moved on and to see success, new additions to the team are needed. Second and third year players must step up their game against good competition. One of these returning players is senior Javel Lewis, who is looking to carry a heavy load of production for the Comets this year. Last season, he averaged eight rebounds and two blocks per game, and the same, or even more results are expected from the forward.
   Other notable players from last year who had a considerably higher amount of minutes is junior Jarred Houghton and senior Stephon Hall, both playing guard. At this level of basketball, leadership is important, and seeing results from them during the season could boost the rest of the team's production. Other varsity veterans looking to make their mark on the season are seniors Trever Rogers, Dillon Beaton, and Owen Adams. Adams is one of the few returners looking to get plenty of more opportunities this year and is confident about the season.
   "We have worked really hard this year, and I think we're going to do a lot of good things and compete and win a lot of games," Adams said.
   New additions anxious to prove themselves this season include juniors Will Jerzak and Devin Gardella. Both players balled out for the Junior Varsity team last year and are searching for that same success when their time comes. Rounding out the team are Kyle Deichmann, Nic Sura, Bornwell Legabu, Devan Wilson, and Marton Toth.
   There are a lot of important factors and variables that could either hurt or help the Comets a lot this year. One of them is 3-point shooting. Last year, the team had multiple shooters who could let it rain from downtown, and now that most of those guys are gone, it is going to be crucial to find that touch from deep. To go along with shooting is going to be consistency. There is no doubt that Grand Ledge has a more organized system than other high school programs, but at the end of the day, the players have to go out and make it happen on the court. Since every game this year will surely be competitive, every player has to be at the top of their game. It seems obvious that that must be the case and that consistency should not be a problem but this is high school basketball, where anything can happen. The final thing the Comets need to do is taking advantage of their size down low. With Lewis as one of the largest "big men" in the conference, not taking advantage of that would be a mistake. Finding ways to feed the big man and have a presence down low will reap benefits in multiple aspects of the game on both sides of the ball.
   There is no doubt that this year is going to be tough and unpredictable, but it is not time to worry or panic. Grand Ledge has the system and the tools to win, and may not be very far from a Conference title, and possibly a District title.
About the Writer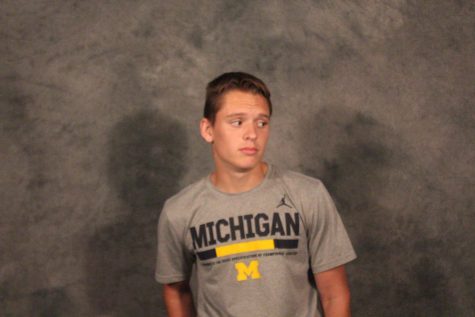 Austin McCartney, Staff Writer
Contact Me: [email protected]

This is Austin's first year on staff. Other than writing for The Comets' Tale, he enjoys playing various sports, such...