Back to Band Camp
Marching band members return for the 2019-2020 season.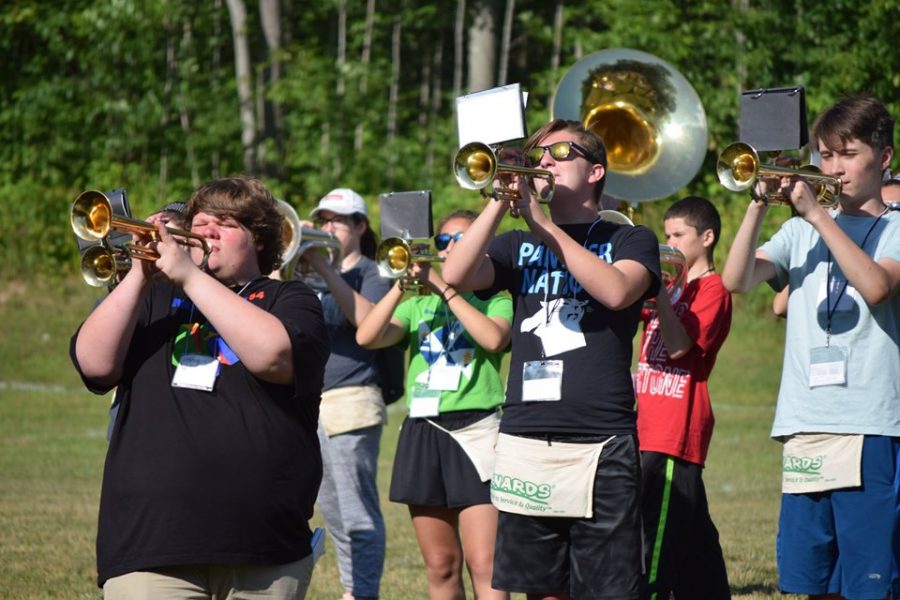 Over two hundred kids walk onto a field on a nearly ninety degree day, carrying up to thirty pounds of brass. This  sounds like the start of a very bad joke, but for the members of the Grand Ledge High School Comet Marching Band, this is just the reality of a rehearsal.
     During a sweltering week from July 28 to Aug. 3, students in the marching band left the comfort of their air conditioned homes and traveled to Cran Hill Ranch in Big Rapids to begin a week of band camp. The time spent at this camp helps to train marchers and teaches them the complex formations that are featured in the halftime show.
    "I think I'm just looking forward to being with this group of students this year, and the music is really great," John Szczerowski, the director of the band, said. "I think that this season has the potential to be the best one we've ever had."
    The music for this school year's show is comprised of some very familiar tunes from the childhood memories of many students. Appealing to almost any age, the theme spotlights the wonderfully nostalgic music of Disney movies. Featured pieces include "Under the Sea," "Beauty and the Beast," "I Wanna Be Like You," and, for a more contemporary audience, "How Far I'll Go" from Moana.
    Though there is a large focus on music at band camp, what really brings the band together is their sense of community. From individual friend groups to tight-knit sections, finding a place in the band community is never a hard task. Many people find an important place where they can belong out on the field. For example, senior marching band members all gathered together on the last day of band camp for a lock-in, in which they got to play games and spend time with all of the friends they had made during their four years in marching band. Experiences like these made many of them mindful of the experiences and friends they have to leave behind them when they graduate.
    "It was exciting to be a senior at band camp, but also quite sad, because marching band has been such a big part of my life," Kyleigh Mankel, a senior marching band member, said. "Knowing that I'm closing a part of my life I'll never get to experience again is really sad."
    Whether it is the supportive community or the fantastic music, everyone is sure to find something they can enjoy about marching band. During the course of the season, the band has several invitationals, one in Hastings on Oct. 5 and another in East Kentwood on Oct. 19. To see them in action, students can go to the upcoming Varsity football games on Sept. 6 and Sept. 13, or to the Homecoming game scheduled on Sept. 27.
About the Contributors
Kelly Morgan, Editor-in-Chief
Contact me at [email protected]

Kelly Morgan is a senior at Grand Ledge High School. This is her second year on newspaper staff. When she is not...