Hollywood's Bleeding: Fire on Fire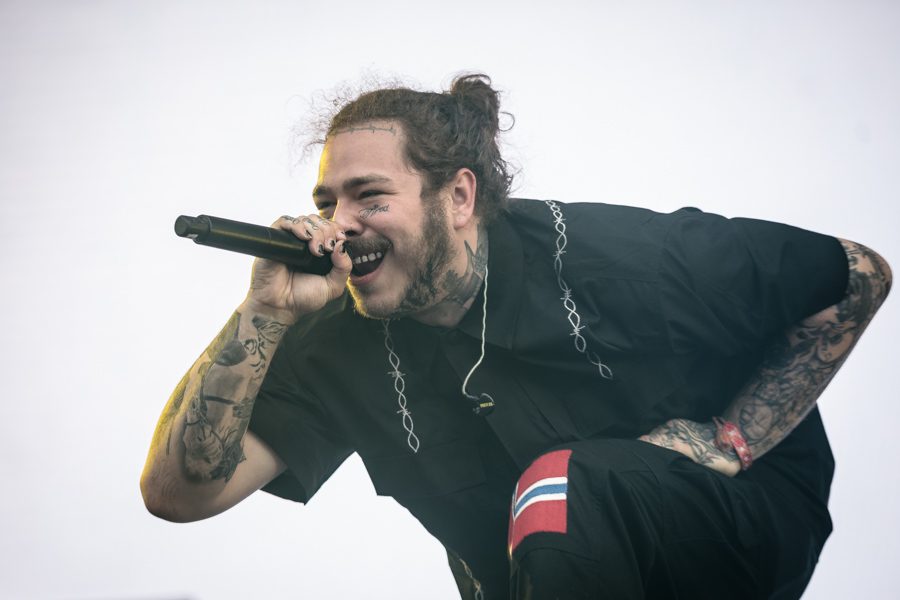 Cameron Roberts, Entertainment Editor
October 2, 2019
Triple Platinum Rock/Hip-Hop recording artist Post Malone has done it again with his third studio album: "Hollywood's Bleeding." Malone was topping the charts with his first album "Stoney," as well as his second album "Beerbongs and Bentleys," which showed off his unique style and great sound. "Hollywood's Bleeding" is Malone's most recent tracklist with 17 songs released Sept. 6, 2019 including previously released singles "Wow," "Goodbyes" featuring Young Thug, "Sunflower" featuring Swae Lee, and "Circles" which were topping the charts pre-release. The newest songs from the album are creeping up the charts like their predecessors, showing once again that Post Malone is one of the most unique and talented artists in the game.
"People coming back from lunch are always playing ["Hollywood's Bleeding"] really loud in their cars," Jonah Lyon, a Senior said. The songs and album has been out since Sep. 9 and there are still being music videos released (Post Malone – Saint Tropez [Official Video] released Sep. 11, 2019). Additionally, all 17 songs are in the top 25 listened-to songs in the United States, according to Apple Music Preview. The top grossing sound right now, "Enemies: (ft. Dababy), is "one of the biggest party songs of the year," according to Senior Jacob Boylan.
There are many different sounds to the album, and Malone likes to show off his rock infused side. The song "Take What You Want" includes artists Travis Scott and, quite surprisingly, Ozzy Osbourne. Ozzy getting a feature spot on this album is no dismissable feat, and fans took to Twitter to share their shock with each other. Artist Ozzy Osbourne shared his thoughts on the song via Twitter as well, " I… love this track with [Travis Scott] and [Post Malone]" . This song in particular has a slower yet bass-heavy beat with great blending of rock and hip-hop. The Album in its entirety was a sheer classic from Post Malone as he hits the nail on the head with lyrics like "You showed your tongue and it was forked in two. Your venom was lethal, I almost believed you." Not many artists can keep releasing albums and top the charts every time with their unique style, but Malone is still getting it done. It would be no surprise if this album remained on top of the charts for a long period of time and even went platinum like Malone's previously mentioned albums. Kudos, Mr. Malone!