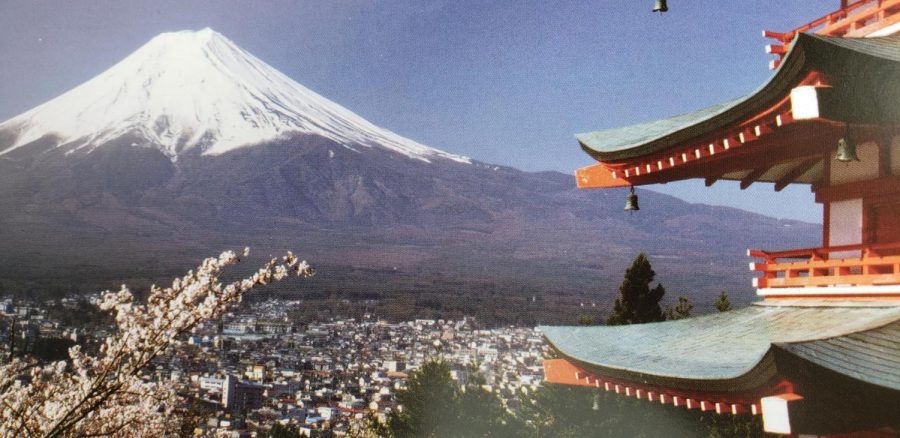 GLHS Globe-Trotters: Grand Ledge Students Travel The World During Summer 2019 
Courtesy Photo By Alena Damas
GLHS Globe-Trotters: Grand Ledge Students Travel The World During Summer 2019 
    There are boundless activities for students to do during summer vacation, and most will agree that one of the more exciting ones is traveling. Vacationing to different places can give people exciting new memories and help them understand different cultures around the world. In fact, that is exactly what two GLHS students did over their summer vacations. 
    Freshman Alena Damas visited Japan and its many cities, including Tokyo, Fukuoka, and Kobe over her summer vacation. Almost every country across the world will have unalike cultures, and these differences can be found in the way people live their daily lives. What one country finds completely normal, another country will be bewildered by their strange customs, including a country's fashion choices.    
    "I did not see anyone wearing any shorts, and they only wore dresses and pants at sacred places." Damas said. Damas also stated that while visiting one of these sacred places, she had to wrap a plastic trash bag around her waist due to one of the rules restricting visitors from wearing anything above the knee. Damas believed the people she encountered on her trip were more courteous than many people here in America, no matter how they decided to dress.
    "They were all super nice and they tried to help as much as they could even if they didn't know how," Damas said, laughing. When they did try to help her, however, there were some language barriers that they had to face, since no one traveling with her spoke Japanese. Even if Damas had known the language, there are various different dialects across Japan that can confuse even native speakers. But luckily for Damas, there were several kind people who still tried to aid her while she traveled through the country.
    "In the main cities or big populated areas almost all the people knew English, but when we visited the smaller community areas there were very few people who knew how to speak English," Damas continued. "It was difficult, but they still tried to help us and we would use hand gestures." On one occasion, Damas and her family had become lost while trying to find a dock and were left in the pouring rain. Luckily they happened upon a shop and the owners were able to point them in the general direction the dock was in by using a map, and were able to find their destination. Japan has many attractions and interesting places to
visit, which can make choosing a favorite place difficult. But experiencing a place where the most advanced machinery in the world is made can easily sway a person's decision.
 "My favorite places were the Technology Island because it was so well developed, way more developed than here in America, and I also liked the shrines we went to because they were very beautiful." Damas explained. The shrines are also a hot spot for vacationers, and there are plenty to see since it is estimated that there are over eighty-thousand shrines across Japan.
    Abby Nolen visited parts of Europe over her vacation, and especially enjoyed Ireland. When Nolen was choosing where to go for her vacation, land marks and attractions did somewhat influence her and her family's decision. Another factor that most people forget about, however, are the locals that live there. But Abby Nolen, a current junior, did include this factor when she decided to visit the United Kingdom.
    "Most of the people in Ireland were super nice and really calm, and people did not get angry while driving like they do here." Nolen said. Since Nolen encountered very little road rage while on her trip, she ended up enjoying driving through Ireland's various cities and noticed more major traffic differences between Ireland and America.
    "There was not a lot of traffic which was super nice, because usually in big cities, there's a lot of traffic but that was not really a thing there." Nolen responded. In Ireland, people drive on the left side of the road which is dissimilar to most other countries, including America, who drive on the right side of the road. These alien contrasts continue, however, after Nolen was briefly reminded of school while traveling during her summer vacation.
    "Yeah there were kids still going to school, which was super weird because it was summer." Nolen said. Ireland does have a somewhat similar school schedule compared to most of America, but the majority of Irish students will find themselves having to go back to school in early August. After her trip was over and she had to start thinking about school herself, Nolen fondly recalled the places she visited and all the keepsakes she bought to help her never forget the adventure she went on.
    "My favorite place was definitely Dublin, Ireland, and my favorite souvenir were the AirPods I bought." Nolen stated. Both of these students had a wonderful time traveling around the world and seeing new places. Though traveling can be somewhat stressful, the two students agreed the memories they made were worth it. Even if it is just visiting a different state, city, or town, exploring new places can open up young students' minds and help create long lasting memories.