Illustration by Jonathan Callison
Whitetail Hunting Preview
Letting hunters know how to prepare for Michigan's 2018 Whitetail hunting season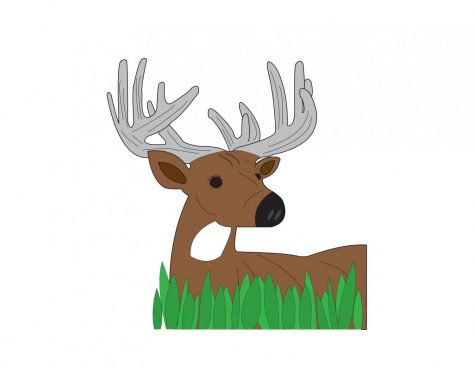 Once again it is that time of year; students return to school, the cooler temperatures set in, and the leaves start to change colors. It is fall and it is time to hit the woods for another hunting season.
   Michigan's Whitetail Deer season is one of the most popular and the most anticipated outdoor seasons of the year. The archery season runs from Oct. 1-Nov. 14 and Dec. 1-Jan. 1, and the firearm season runs from Nov. 15-30. Lastly, muzzleloader season runs from Dec. 7-23, for zone three which includes the GL area. The hunting season means more than just hunting to many outdoorsmen and women.
  "To me hunting means a lot," Jimmy Gretzinger, co-host of Michigan Out-of-Doors TV said. "It means family, tradition, food, deer camp, gun dogs, shotguns, camaraderie around the campfire. For me, hunting is not just my chosen vocation, it's really a way of life as it is for many. It is a part of who we are."
   Like Jimmy, many hunters feel that a deer camp is a time to reconnect with friends and family. Generations of hunters have used the same land and know it like the back of their hand. To Mike Avery, hunting is also a heritage handed down.
  "Hunting to me is a part of my history," Mike Avery, host of Mike Avery Outdoor Radio said. "It's a way to continue the tradition handed down by my grandpa and dad. It's also a great way to put healthy food on the table and have fun while you're at it."
   There are many different things to do to get ready for the hunting season. Before the season starts, hunters should get out there and get cameras set up. One might also want to plant food plots. Food plots are legal, but baiting is not this year. Another thing to remember is to make sure the stands, blinds, safety gear, or anything else to hunt with is ready to go when opening day comes. No license means no hunting. Many like to go get the license as early as possible, so on opening day there are no hiccups. Antlerless tags cost $20, regular resident and non-resident cost $20, resident combo tags cost $40, and non-resident combo tags cost $190. Hunters should also check their bow or firearm at a range or safe place to make sure it is working properly.
"
To me hunting means a lot"
— Jimmy Gretzinger
   This season, many hunters will have to go back to traditional hunting. The new laws that the MI Department of Natural Resources (DNR)  put in place a month or two ago banned baiting and feeding of any kind, along with scents. According to the MI DNR, baiting and feeding is banned in the following counties: Alcona, Alpena, Calhoun, Clinton, Eaton, Gratiot, Hillsdale, Ingham, Ionia, Isabella, Jackson, Kent, Mecosta, Montcalm, Montmorency, Muskegon, Newaygo, Oscoda, Ottawa, and Shiawassee. (Exception: Hunters with disabilities who meet specific requirements may use single-bite baits in the above counties during the Liberty and Independence Hunts only.) This ban is solely based on the reported increase of Chronic Wasting Disease (CWD) cases in deer.
   "I feel the new baiting ban will be ineffective at fixing the problem. There has always been disease in any species, and it's just mother nature balancing the population out," Clint Taylor, local hunter and owner of A to Z Game Calls said. "CWD is most certainly a problem. I am more bothered by the reactive approach to problems then proactive approach. I think this season will be about average. It will be easier for the average hunter that doesn't put the pre-hunt time and uses bait as a tool."
   Mike Avery also thinks this season will be pretty good, but could not answer questions based on CWD and baiting.
   "I suspect this season will be much like the past few with some real nice bucks coming out of southern Michigan farm country.  The weather always plays a big role in the harvest and perception of the season," Mike Avery said. "Regarding baiting and scents, I'm not qualified to answer that. I'm not a biologist and don't know what the best course of action is in regard to CWD."
   For those who do not know what CWD is, it is exactly as it sounds. According to the Centers for Disease Control and Prevention, Chronic Wasting Disease (CWD) is a prion disease that affects deer, elk, reindeer, sika deer and moose. It has been found in some areas of North America, including Canada and the United States, Norway and South Korea. Symptoms can include drastic weight loss (wasting), stumbling, listlessness and other neurologic symptoms. CWD can affect animals of all ages and some infected animals may die without ever developing the disease. CWD is fatal to animals and there are no treatments or vaccines. CWD has not contracted to humans. There are still no clear answers to solving the problem.
   "Each hunting season has its own challenges," Gretzinger said. Some years you get to spend a lot of time afield, and some seasons you don't. To me, a hunting season is judged by how many times I get out, not so much on what is in my game bag at the end of the day. The new regulations will take some getting used to for many. Those that bait in the new CWD zone will have to learn to adapt – but the current counties in the 16 county zone are not big 'baiting' areas. Southern MI hunters don't benefit from baiting like the hunters further north. So, time will tell if the MI hunter can adapt to a new way of hunting."
   The 2018 hunting season should be another successful season to hunters. The only difference from past seasons is the baiting ban for multiple counties. Hunters will just have to go back to their traditional roots of no baiting. The season is shaping up to be a good one, so get out there, and good luck! 
For more information on the hunting seasons check out the link to the right. Michigan Hunting Seasons