Newsies Behind the Scenes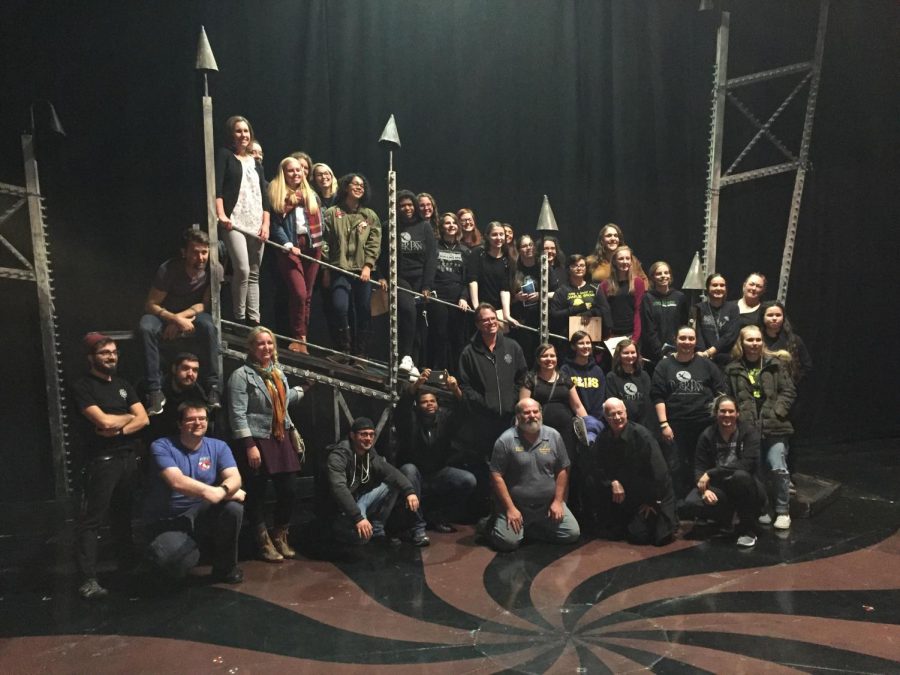 The actors may be in the spotlight, but they can't be without anyone running it. With everyone getting ready for the fall musical, Newsies, the theatre tech crew is setting up the stage with the props, fixing the lights, working the soundboard, and bringing the curtains so the show can begin, because a show cannot run smoothly without them.
   Tim Daniel is the tech director for the auditorium and he keeps everything going smooth and steady. He teaches and mentors all the tech crew, or as they call themselves this year, "Crewsies," how to run the show safely and properly. Daniel is always running around during school and after school making sure the auditorium is in good condition for the musical.  While being active around the auditorium, he also takes kids home after school or on field trips as a bus driver
    "I've been the director for the Grand Ledge auditorium for almost seven years now," Daniel said. "My job is to teach the kids how to use the different equipment in the auditorium as it applies to the musicals, concerts, and dance recital events that we have here. I've been doing technical theatre ever since I was eight years old helping my dad out with the old Okemos barn theatre. When Grand Ledge opened up the auditorium in 1997, my father became the director. He had this job until 2005 and when I found out Grand Ledge was hiring, I jumped on the chance. I basically look at the Grand Ledge auditorium as a family business thanks to my father."
   Along with Tim, there are 22 members of the GLHS theatre tech crew. They have been learning about how to work the show carefully since the beginning of the school year, making sure they don't break the speakers, bust a light, or injure an actor or themselves.  
   "I've been in tech for three years now and I work with the script with the soundboard." Sammy Filipich clarifies. "I read off the script to Hannah Perri, GLHS junior who runs the soundboard, so she can turn on which mics to use and use whatever sound effects that are needed for that scene. Working the soundboard isn't very difficult to perform, but you do have to pay attention very hard to the musical so you don't miss your queue and so everyone can hear the actors and the pit."
  Savannah Burgess is another member in tech. She helps out by moving the props around the stage when needed to.
   "This is my first year and I help out with sets by moving all the set pieces from one scene to the next. I had friends who were a part of tech and they would always tell me amazing things about it so I decided to join. Ever since I joined, I've been telling my friends to join too!" Burgess explains.
"
I think it's really awesome with the idea of it being my senior year and being the captain on my last year."
— Alexis Milligan
  The tech crew became an all female crew for the Newsies musical this year, which was a big shocker to some of the cast members and the upperclassmen who are a part of the tech crew. Along with the all female crew, the auditorium got brand new lights and speakers, which means that the lights and sound crew has a lot to learn for Newsies.
 "This year became an all female tech crew which is the first time this has ever happened," Amara Hoddy, who runs the set pieces around the stage, said. "I actually think that everyone is very close with each other and we all get along very well. We do a lot of team bondings and we all work together than previous years which is really awesome. We also are super encouraging to each other. Not that it hasn't been like that in previous years, but I've just seen it most this year with the girls."
  "Everyone is there, getting ready for rehearsal, and preparing for what they are assigned to do. I think it's just crazy how everything is gonna turn out this year. With previous musicals, band concerts, choir concerts, and dance recitals, it's never been on this level on how much we're mentally and physically preparing for this."
 "I really like how much characters are in the musical, even though most are all extras, it just feels like everyone has a part. There's more dancing and singing and I'm very excited,"  Shaltry said. "I really wanted to do lighting because it interested me. Apparently the light crew doesn't really like working the spotlight that much, so I decided to give it a try. It make me feel very important working the spotlight, though, so I'm happy [about]… it."
   While  all of tech crew is ecstatic for the musical, the seniors seem to be the most excited. With their last year coming to an end very soon, they are ready to make this show the best one yet.    Zoe Gibbs works on the light board with the musicals and did the Tinkerbell effects with last year's musical, Peter Pan.
    "I feel really upset that it is my last year on tech." Gibbs said. "I want to do more with the musicals and the lightning. I couldn't do much if it wasn't for Abby Thorne. She knows everything about lights and I'm lowkey jealous. But she is the one who motivates me the most in tech."
 Senior Alexis Milligan is the rigging captain for the musical. She pulls the curtains and helps set up the background by pulling on the ropes backstage.
   "It's weird having people look and acknowledge me now because I am in charge of the rigging crew now but I really enjoy it though." Milligan said. "It's kinda sad because I really wanna get a job in this career once I graduate, but if somehow I can't then this will be my last time doing rigging which would suck. Besides that, I think it's really awesome with the idea of it being my senior year and being the captain on my last year."
   For the underclassmen that are in tech this year, or those who wanna join next year, Alexis Milligan, Amara Hoddy, Zoe Gibbs, and Tim Daniel have some advice for next year's theatre tech crew members.
   "My advice that I always tell every freshman is be ready for how intense this gets," Hoddy said. "The intensity is like if you're riding a roller coaster at Cedar Point. You get this rush of adrenaline every time you have to make a move. Just be ready for the emotions you are going to get as well because tech is something that really does test your limits and pushes you towards your breaking point. Be ready for what's about to come because it is one big roller coaster."
   Senior Zoe Gibbs, who runs the lights up in the light booth, said. "Just join it honestly," Gibbs said. "People will have apprehensions about it but you won't know unless you join tech. It's so much fun and you will have the best time of your life here even if you go back and forth between hating it and loving it. You'll mostly be loving it so give it a shot."
   Milligan gives her advice out straight to the point for tech. She likes to look out for everyone's safety.
   "Be careful and never rush," Milligan said. "If you have any questions, you better ask someone. Don't mess up because if you do, someone will get hurt, you'll end up breaking something, then it just ends up not being a good show."
   Last but definitely not least, Tim Daniel, the tech director, gives out his advice to everyone.
   "Get involved," Daniel said. " Don't be afraid to try new things! Yes, tech may seem overwhelming at first, but once you get into it, it's fun! Just ask anyone who has been in tech."
   Even though everyone is focusing on the musical, it seems like not only do they have a great tech crew, but tech has found a family. All of the tech members and the actors are working very hard to make this one the best. If you would like to go see Newsies, go buy tickets at https://www.glmusicals.net/. If you are interested in joining the theatre tech crew, email Tim Daniel at [email protected]