Spring Sports Preview 2019
Comments and Predictions from Seniors playing in Spring Sports
Hang on for a minute...we're trying to find some more stories you might like.
Girls Soccer
Joey Davidson: "it's going to be a fun season and even though I cannot play, I am really excited to support from the sidelines and aid help the coaches. I am definitely worried about injuries as we are a team that frequently has problems with injured players. The seniors we have are really strong and with a few new additions, we could be a good team."
Olivia Parker: "With any team you suffer the loss of seniors, but I think we are ready to fill those spots. There is not a game I am specifically looking forward to but we are ready to get the season going and hopefully come out successful. I am very excited for senior night to celebrate myself and the other seniors! The season will be a little more difficult to win the conference because a few teams were moved into ours, But I think with a lot of hardwork and determination we have a good shot at it."
Softball
Nina Bennett: "I am super excited for this season because it is my last year and I am the only senior. I am super close with most of the girls and i can't wait to see our chemistry on the field this year. I am a little worried about how the new team is going to work under the pressure of tougher teams because we lost so many seniors, but I think we will be able to get through each obstacle together"
Girls Lax
Kennedy Aswegan: "I am looking forward to building a great team chemistry with all of us working together to win games. Although we lost many star players from last year, we still have many returning and new players! We are all looking forward to the season ahead, and there are many accomplishments we are looking to achieve!"
Cassidy McGeorge: "Our overall goal is to grow as people and players, and end the season with an established spot in our conference. My main concern is having such a young team, we lost a lot of talented seniors last year, but we also have a lot of incoming players that have lots of experience. I'm really looking forward to my senior season and all of the fun things that come with it!"
Girls Water polo
Lola Mull: "We are hungry to play and to win. This year our goal is to be state champions and we think we have a very real shot at getting to that goal. We are really just looking forward to every practice, every game, every weekend tournament, up to states. WE are worried about a few teams we will be playing this year, as we only lost to a few. We don't have the underdog element on our side anymore so we are all going to play and fight for each other as hard as we can, and hopefully beat the teams that we lost to last year."
Adrianah Stahelin: "I am hoping that our team makes it to states and lands in first place at the end. I am expecting a lot of hard earned wins and physically challenging tournaments throughout the season. I am looking forward to that. I am concerned with the athletic ability other teams hold elsewhere so we will have to work hard in order to accomplish our dreams"
Boys Golf
Kyle Beachnau: Our only concern was that our original coach has resigned. We just got our new coach though and he seems like a really knowledgeable guy. We are very much looking forward to this season, as we have a pretty good team."
Girl's Tennis
Ashton Goodwin: "I'm really excited about the season this year! There are a lot of freshman joining so I'm looking forward to seeing how they do. Mr. McDonnell is the new JV coach too, and he seems like he is really committed to helping the team improve and stay motivated. I love the positive atmosphere of practices and matches because we all support each other. I'm looking forward to getting active and hopefully having challenging but rewarding matches."
About the Writer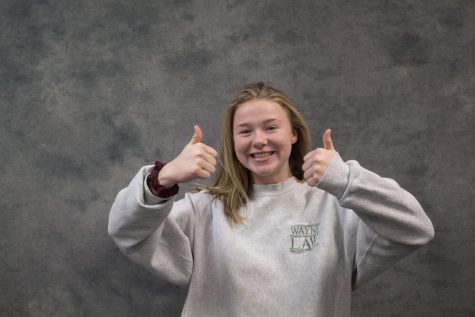 Sydney Mullett, Staff Writer
Contact: [email protected]

Sydney is a senior at Grand Ledge, it's my fourth year here in the void. This my first year on staff. I spend most of...