Insatiable Review
Netflix's most controversial series yet
Hang on for a minute...we're trying to find some more stories you might like.
   After a lifelong struggle of being Fatty Patty, overweight high school student Patty Bladell takes on the world as her new skinny self after unfortunate events (which may have involved fighting a homeless guy over a chocolate bar) led her to a summer of no solid food. Now that she is skinny, and actress Debby Ryan no longer has to wear a fat suit, Patty believes the world owes her; that it is finally her turn to get everything she has ever wanted. So of course, she seeks revenge, and she does so through…beauty pageants?
   The brand new Netflix Original, Insatiable, has taken the world by a storm after viewers had the ability to watch the trailer on July 19, 2018. Despite the fact that the release date was Aug. 10, 2018, many began to criticize the television series after seeing the preview on YouTube.
   From a distance, the show appears to be rewarding, almost as if you can actually relate to it. The trailer itself makes it look comical and peculiar, along with the title meaning "impossible to satisfy," which draws in an audience. However, Insatiable is far from what everyone thought it was going to be. Instead, it is twelve long episodes of a show that is completely unsure of its message.
   "After finishing @insatiable_, I can honestly say I've never hated a show [so] much until this one," @bruhhhitskaylee tweeted. "This show had all the potential of reaching out to viewers who have struggled with body issues. Yet instead they made it a story abt [about] a former obese girl getting revenge."
  The series is intended to be a coming of age story, but the Netflix Original is just inconsistent. Ranging from wanting to seduce her pageant coach to getting an exorcism, Insatiable feels like a huge identity crisis, one that does not want to be worked out.
   Within the first fifteen minutes, the show lays out the fat girl stereotype, as if every overweight high school girl just cannot resist food. Then, throughout the first few episodes, the show makes fun of her best friend Nonnie's girl crush on Patty. Yes, the scene where Nonnie tells Patty she is in love with her is beautifully written and shot, but after all the drama, it gets completely overlooked.
   However, some Twitter users disagree, saying the show was "brilliant."
   "I'm convinced people complaining about @insatiable_ never saw anything but the trailer or a few minutes of the first episode," Daniel Emery Taylor (@DEmeryTaylor) tweeted.  "It's literally the OPPOSITE of what people are saying it is. Brilliant. Edgy. With heart. I loved it. @netflix @DebbyRyan @gussisLauren #insatiable."
   The last half of the show feels like a completely different story, as if the writer just could not pick a plot line. Of course, the show leaves viewers on a cliffhanger at the end of episode twelve. However, it certainly is not a cliffhanger that left watchers aching for more Insatiable; for many, season one was more than enough.
    The writer of Insatiable, Lauren Gussis, aimed to make the show a worldwide phenomenon by shining light on body shaming. However, body shaming is really only covered in the first ten minutes of episode one. Here in Grand Ledge, whether it be through social media or in the building, students struggle with body shaming on a daily basis. Insatiable is not a show that can be related to throughout its entirety, and high school students should not be watching it.
About the Writer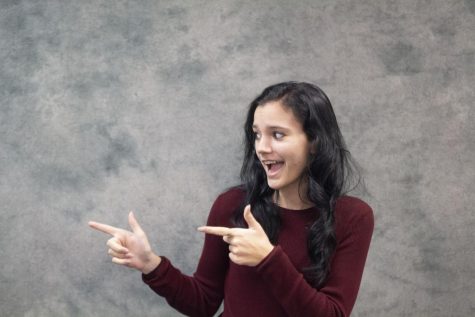 Mikayla Graham, Entertainment Editor/Photo Editor
This is Mikayla's third year on The Comets' Tale; she's a senior at GLHS. When Mikayla isn't devoting her time to the paper, she's usually watching Netflix,...