GL Splash Pad Opens Over Summer
   On Aug. 13, the Grand Ledge community finally opened up the new splash pad that students and parents alike were excited about. Construction originally started in April, and it took about five months to have it completed for the community to enjoy during the summer.
   The splash pad is about 2,000 square feet. It has 19 water sprayers that allow guests to control how much the water sprays from a three foot wall. Parents can turn on and off the water for when they want their kids to stop playing and dry off. It is located at 525 East River Street. There is also a rock bench for parents to sit down and watch their children play all day long or to sit down and enjoy other activities such as Music in the Park. It is free for all ages and is handicap accessible.
"
I thought the splash pad was really good for both the kids and the parents of the community,"
— Amber Kiger
   The splash pad is now closed but will be open all summer long next year. So make plans to spend next summer with friends and family at the splash pad on those hot humid days when it reaches 90 degrees here in Grand Ledge.
   During the summer, senior Amber Kiger took her cousin, Jude McNeilly, to the splash pad for the day.
   "I thought the splash pad was really good for both the kids and the parents of the community," Kiger said. "It really brought everyone together and was just amazing that we added the splash pad in since we don't have [many] activities like this in GL."
   When Kiger was asked about the environment of the splash pad, she was amazed about how the people acted and how the nature of the splash pad looked so clean and friendly.
   "It was really family-friendly and respectful; parents were watching their kids and making sure [that], no accidents happened while we were over there," Kiger said. "Jude also loved the splash pad like, we could not get him out once he got in! Yes, he was shy at first but once he saw the other kids play in it, he got comfortable and kept playing all day!"  
   However, Kiger also felt that there were some things the city could have added to the splash pad.
  "[I would add] probably some buckets that would fill up and dump water on the kids 'cause they only have the fountains which is nice but I wanted something else more amusing than that," Kiger said.
  Seeing this small town open something so simple is actually a big thing to the community. People are wondering what else Grand Ledge is going do in the community, so Grand Ledge made a Parks and Recreation Master Plan online for people to look at www.grand-ledge.com. Grand Ledge is finally becoming the community they have always wanted to become, one project at a time.
About the Contributor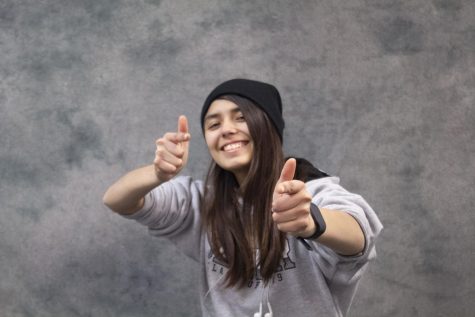 Raven Nava, Ad Sales Manager
Contact Me: [email protected]

I'm a senior at GLHS. This is my first year in newspaper. I enjoy marching band, playing the ukulele, sleeping,  and...