Grand Ledge Musicals Presents: Legally Blonde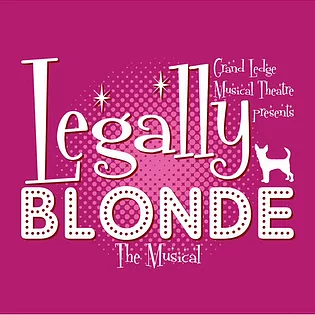 The Grand Ledge High School Musical program has had some large productions in the past, like Phantom of the Opera, Peter Pan, and more recently, Newsies and White Christmas. This year's Fall Musical is Legally Blonde, based on the 2001 film of the same name. This production is bigger than most; With some unique challenges to face due to the effects of the COVID-19 pandemic, and the year of experience lost due to the lockdown, some may think such a big production is a step too far forward, but such concerns have not halted production whatsoever.
Madelyn Marsh and Maria Perez play the main character, Elle Woods. In supporting roles are Jacob Deal as Emmett Forrest, Gabby Seigo and Kat Platte as Vivienne Kensington, Jacob Irwin as Warner Huntington III, Forrest Bonney and Emalie Blodgett as Enid Hoopes, and Elysia Azzi and Miah Winston as Paulette Buonofonte.
"It's a lot of work, but the reward of getting to finish a big scene and you're standing there front and center definitely makes it worth it." said Madelyn Marsh on how it feels to be the lead.
For a lot of actresses and actors, this is their first lead role.
"It's really life-changing to be honest. I haven't actually been out in front of everyone like some other people have."
The choreography for this musical is also extremely intensive. In one dance number, over 30 dancers take the stage, and in another, dancers use jump ropes in a mock exercise routine. Dancers had to work hard to learn the choreography for these scenes, with rehearsals being held all throughout the Summer. People in lead roles may helm the show in some ways, but dancers and members of the ensemble have been working equally hard.
An unexpected hiccup faced in production has been the lack of males who auditioned for the musical. In years past, there has been a large number of guys who took part in the musicals. However, a majority of them were in the same class, and graduated last Spring. This left a large hole in casting, and not enough literal manpower to fill it. Male lead roles were not able to be double cast. To double cast means to have two people play the same role, and have them switch out every show. On Thursday night, a role would be played by one actor, and on Friday, a different actor would play the same role. This is how lead characters are traditionally cast, but because of the scarce amount of guys, this was not achievable. Some of the guys were assigned characters who sing higher or lower than the actors are comfortable with, and others were even given multiple roles to play throughout the show. With this however, is a silver lining.
"I think it brought all the guys closer in a sense… We can interact a lot better with each other." said Josh Irwin.
This casting hole has also opened doors for other people who might not traditionally audition. For instance, members of the Grand Ledge High School Varsity Football Team were even drafted to play a group of frat boys.
On the technical side of things, the tech crew behind the musical has also fallen upon some issues throughout rehearsals. Due to the year-long break between musicals, two years worth of experienced tech crew members graduated, leaving a class of somewhat experienced members in their place. The tech crew, composed of light crew, sound crew, rigging crew, and set crew, has fewer members than normal, and less experience as well, due to the year of experience lost. Two alumni of Grand Ledge even came back to help the tech crew run smoothly. Leigha Pardee, who has helped the rigging crew since her Freshman year in 2018, provided her insight on how this unusual arrangement has impacted the show.
"I wouldn't say it affected the show in a bad way. All the new people are really quick learners. Training them has been really easy."
Legally Blonde opens on Thursday, November 18th. It continues through Friday, Saturday, and Sunday with evening shows starting at 7:30. There are also matinee shows on Saturday and Sunday starting at 2:00. The musical is rated PG-13 for suggestive content and language. Potentially offensive stereotypes are also portrayed. Tickets are ten dollars each. Money from ticket sales goes into the musical program, to provide funding for future musical productions. Come support the students of Grand Ledge in one of their most difficult productions yet, Legally Blonde.