Basketball: Homecoming Edition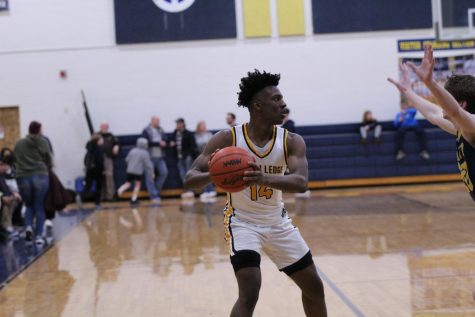 A part of the Grand Ledge homecoming activities is watching the boys varsity basketball team play on Friday, February 25th, and watching our home team win.
 The homecoming basketball game has been a tradition for a long time now at Grand Ledge. It brings all the former teammates, families, and friends together on a night to celebrate the basketball season and the accomplishments.
 To begin the festivities, the Varsity girls team played Jackson Northwest on Tuesday, February 8th.  This night was all about honoring the seniors, and their last time playing on the Grand Ledge High School court. 
 This year's seniors are as follows: Taylor Piper, Adeline Schroeder and Claire Willoughby. 
The Varsity Girls unfortunately came short in a hard-fought battle to Jackson Northwest, the final score of the game was 49-43. The three seniors were honored after this game for all of their hard work and dedication throughout the season, and all the memories they made on their home court. 
 "My favorite part of senior night was getting to kiss the floor!," said Senior, Taylor Piper, "Although it was a very sad goodbye kiss to our home court, so many great memories have been made within the past four years here that I will keep with me forever."
 The Varsity Boys played on February 25th for their homecoming game. The Boys Varsity team faced off the Dewitt Panthers. 
  This game is some of the Seniors last time experiencing that homecoming game feeling. The seniors that competed in their last Friday night game were Justin Odlum, Zion Jones, Isaiah Bailey, Caden Knight, Nicholas Ellis, Joe McCrary and Caden Andriessen.
  "I'm going to miss the closeness of the team," stated Senior, Caden Andriessen "I just feel like we were pretty close throughout the year even during the bad times we stayed together." 
     After an amazing first quarter the Comets' took the lead with 20-8 against the Panthers. At Halftime, the Comets went into the locker room on top with the lead of 29-17. The student section was loud and proud when the varsity players were coming out of the locker room.  After the end of the third quarter, Grand Ledge had an amazing performance over the Panthers continuing the lead of 44-23. 
   With the Comets' still up after the third quarter, the Comets beat the Panthers with a score of  53-42. Grand Ledge will now advance to 6-12 overall and is now 5-7 in conference play (teams in the district).