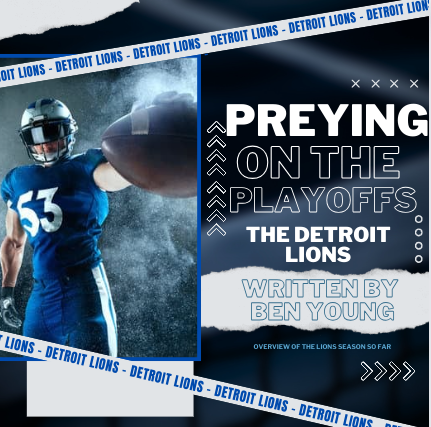 The Lions are currently 5-2 and leading the NFC North with the Vikings behind them with a 3-4 record.  Green Bay 2-4 follows, ending with the Bears in last at 2-5. If the Lions continue to lead the division and win, they will be guaranteed a spot in the 2023-2024 NFL playoffs. Since 1973, the Lions have only won one playoff game and have the worst playoff win record in the NFL. 
  This year's team is solid right now and many are hoping that this is the year that the team can finally deliver on a winning season, and more importantly, win in the postseason. "I think it's the best Detroit Lions we have seen in years, I think they have a real chance to make the playoffs. And in my mind, hopefully, we will go far this year," Junior, Ben Elder said. "Realistically we are probably going past the wild card round." 
  Predictions of where the Lions will land postseason have drastically differing opinions. Many claim they will make the postseason, however some claim they can go even further.
"I think it's the best Lions team we have ever seen, realistically in the NFC championship. I think we will lose to the 49'ers if their team is healthy, but I think we beat the Eagles," Senior Owen Martin said.
  People have expressed their feelings of disappointment about past hype, and a team continuing to disappoint. "I don't like them, I think they are mid. I love the Eagles… and I think it's dumb that everyone thinks they are going to do well and they never do. From what I have heard it seems better but still mid," Senior Thomas Newman said.