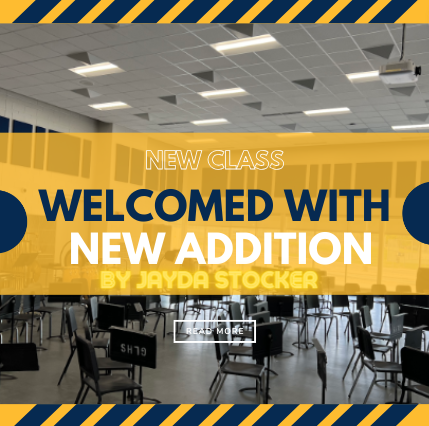 GLHS is starting off the 2023/2024 school year with a brand new addition to the building. As students finished their school year back in June of 2023, the school had many unfinished projects that were still in progress. Over the students' summer break, the work was completed. 
The new addition is on the South side of the building and includes a brand new parking lot that is open to GLHS students, staff, and visitors. The lot includes a handicap ramp and parking, rows of parking, and even parallel parking. Walking in from the parking lot to the new addition, there are three entrances that can also be used as exits that are all connected by the new sidewalk.
All doors are open for students before and after school hours but locked and not able to be entered through during the school day. Going through the newly added entrance, there is a hallway right inside the doors that lead to the usual part of the building. Inside the addition, it includes a new band room, weight room with turf included, boys and girls locker rooms, more bathrooms, and the new athletic trainers office. During construction, the main gym had construction and walls over the south side. Now, there are two new windows overlooking the court in the gym from the new entrance.  
GLHS principle, Ken Wright stated, "I believe the new addition is beneficial. The new band room and music room allow for larger spaces for our large music programs and also allows for additional storage space. There were upgrades made in the auditorium for sound and light, which will be very beneficial as well. Our athletic department has been primarily located at Sawdon, so it is nice to have our athletic director here in the building as well. Once our new equipment is in the new weight room, I believe that will be a great space for our students." Dr. Wright has been enthusiastic about the new addition and the start of the new school year. As students get older, more of them start to get their license and drive. 
When asked about the new parking lot, Dr. Wright said, "The structure of the new parking lot might take some time to get used to, but with lost space due to the new addition, we wanted to maximize student and event parking availability as well as safety in those areas. Some of the parking areas are a bit tight. We also have more and better cameras in the new parking areas, which is helpful for safety and addressing issues that may arise." The new parking lot opened up a lot of space but does not have the same amount of parking spots as the old lot before renovation. The student body is welcome to park in that area before, during, and after school hours. 
As mentioned before, the parking lot leads to the new trainer's room.
 A senior on the Girls volleyball team, Emilie Blue said, "The new entrance has been very beneficial for me and my teammates. We used to have to walk all the way from the band lot entrance over to the other side of the school and then to the gym. Now we're able to park right outside of the trainer's office in the new parking lot and have a minute long walk to the gym which is nice. I also really love how I can just go straight into the locker rooms because of the door outside that leads right in." 
Blue had lots to note about the new addition and added "I really really love that I can go through the doors and right into the new trainer's office which makes it easy for me and to see Jess (GLHS athletic trainer) a lot because I don't waste my time walking."