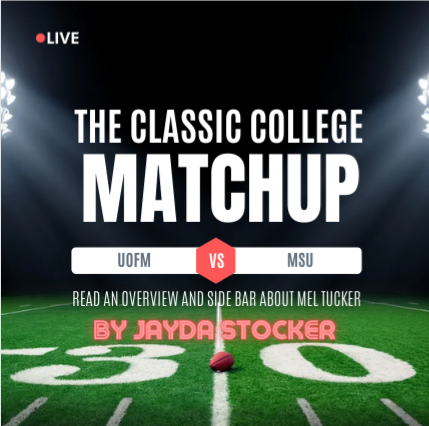 The Michigan-Michigan State football game is a Big Ten rivalry between the Michigan Wolverines (U-of-M) and the Michigan State Spartans (MSU). After years of cross state rivalry, U-of-M may finally have an advantage. At the moment, the Wolverines do have a leading season record over the Spartans.
  Because of the recent loss, MSU's coaching staff has completely changed. After last year's 2022 rival game, the Wolverines took down the Spartans 29 to 7. This does give U-of-M fans an idea of what to expect. The returning star Quarterback, JJ McCarthy, is a Wolverine fan favorite. McCarthy has led U-of-M to many season wins throughout his 3 years of being with the Wolverines.
  During the 2023 NFL draft, 9 of U-of-M's newly graduated football players were drafted. The number is very impressive even from a Big Ten school with 424 alumni that are now pro players. This includes Tom Brady, Anthony Carter, Benny Friedman and many others.  After the Spartan's last season, they had 3 newly graduates go pro in the NFL from the draft. Some very famous players that got drafted before include, Kirk Cousins, A.J. Arcuri, and Ameer Speed.
  Leading up to the big game, the Spartans are ranked #6 in the Big Ten East. As of right now, the Wolverines have a better overall season record than the Sartans. This rivalry will come back to face each other for a night game at the Spartan Stadium on October 21st, 2023. Junior, Tyler Konieczny said, "MSU by 3" when speaking of his predictions for the game. Another Comet, Senior, Drew Gafner stated, "I have a very high bet that Michigan will win".
Tuckered Out
On September 10th, news broke out from USA TODAY regarding Brenda Tracy's allegations against Mel Tucker. Tracy was a sexual assault advocate previously. As a result, Tucker was placed on an unpaid suspension while Harlon Barnett filled his position for the time being, with support from former MSU coach, Mark Dantonio.
  Mel Tucker coached for four years, being one of the highest paid coaches in college football.
  After a week, MSU was debating on firing Tucker due to some details in his contract and news getting out. His contract stated that if he brought any shame upon the university, he was eligible to be fired. 
  Mel Tucker was officially fired from the University of Michigan State on Sept. 27th and had his hearing on Oct. 5th.