Best Holiday Movies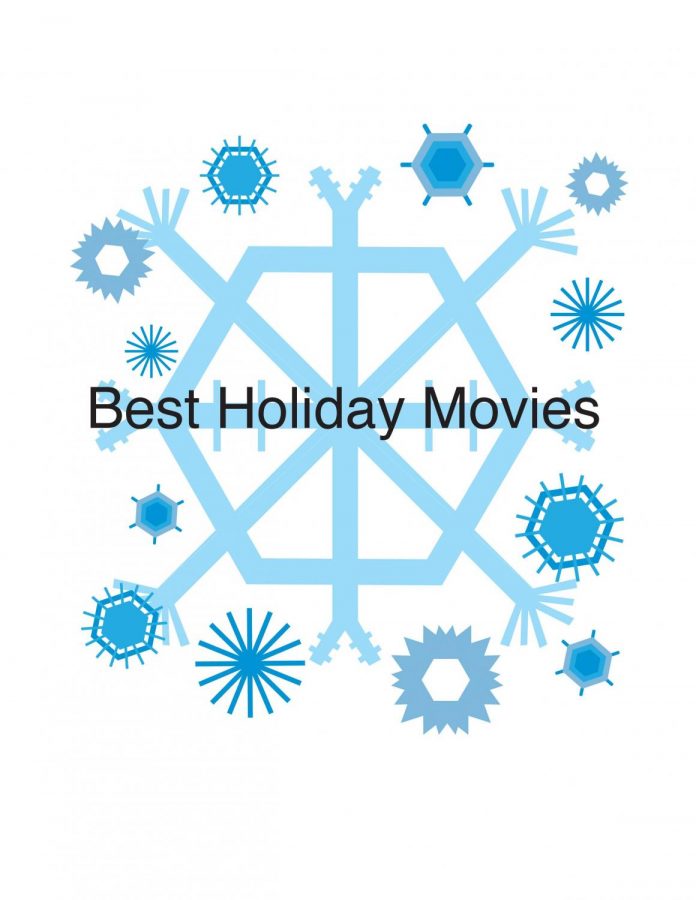 Hannah Rose, Joshua Blatt, Jonathan Callison, Brody Conaty, Matt Faccio, Brandon Foy, Ethan Irish, Austin McCartney, Robert Miller, Kelly Morgan, Raven Nava, and Ms. Wolke
December 20, 2018
Krampus
By: Hannah Rose, Editor-in-Chief
   Christmas is definitely the best time of year, with the most heartfelt movies. However, sometimes a break from the monotony is nice. The 2015 version of Krampus offers just that. Krampus falls under the title of "American dark fantasy comedy horror," which is basically the exact opposite of the classic holiday movies that play on an endless loop in Dec. Along with the nice swap in genre, the movie surprisingly has some of the most delightful holiday characters (at least from my twisted point of view). All of Krampus' helpers are insanely interesting, but especially the gingerbread men. They go from cute to killer in a matter of seconds, offering some of the non stop comedic relief that makes this "horror" so amazing. There is no doubt Krampus is a holiday movies with the strong message it portrays. In the end, the focus is truly on the real meaning behind Christmas. It teaches the characters to cherish family, not be greedy, and never lose the Christmas spirit. This is the most important part of a true Christmas movie, and Krampus finds a unique and captivating way to demonstrate what the holidays should really be about.
Home Alone 2
By: Joshua Blatt, Sports Editor/Graphic Designer
   The second Home Alone film is the greatest Christmas movie of all time. First off, the setting of the film is far superior to its predecessor due to the main character Kevin McCallister has all of New York to explore, rather than being stuck in the confines of his family's Chicago suburb. Home Alone 2: Lost in New York is a cinematic masterpiece, in the way that director Chris Columbus managed to squeeze a ridiculous amount of New York's most famous landmarks into a 121 minute runtime. Macaulay Culkin's performance as Kevin is as good as it gets when it comes to acting in Christmas movies, as most holiday films have extremely poor acting. He has the resources to get around, and have as much fun as he wants. He has a gigantic hotel at his disposal, making the conflicts in the movie far more entertaining than other films. Another reason this movie is outstanding is that it doesn't rely on music like the other measly movies on this list, which is why Home Alone 2: Lost in New York is by far the best Christmas movie ever made.
Die Hard
By: Jonathan Callison, Copy Editor/Graphic Designer
   In my opinion, Die Hard is one of the best Christmas movies ever, and it is also one of the most controversial. Many will argue it is not a Christmas movie; however, it undoubtedly is. The setting takes place on Christmas Eve, at a Christmas party. John McClane, a New York City police officer played by Bruce Willis, visits the company party of the business his wife works for. Unknowingly, a terrorist group enters the building and takes it over. McClane escapes to another floor and tries to summon help. When the bad guys figure out of his call for help, they try to find him. McClane must fight back to stop the terrorists and save his wife. Die Hard is awesome and shows how Christmas miracles, like saving the day, can happen. This action thriller mixed with the holiday theme is unmatched, and it is by far one of the best Christmas movies to watch during the holidays.
The Grinch
By: Brody Conaty, Opinion Editor
   I would not consider myself a vast supporter of Christmas cinematics. They are infantile and pedestrian which I find abundantly irksome. But there is a solitary Christmas movie I do indulge in and that would be The Grinch. The Grinch is the apotheosis of Holiday films because it is distinct. Instead of being a jovial, cherish full movie, The Grinch has a meander. The Grinch is all about a pine tree tinted Who that abhors all things pure and gleeful encompassing Christmas. He conspires to ruin Christmas by undermining the entire populous of Whoville while savagely hoodwinking all Christmas goods and apparel. Prior to the conclusion of this cinematic masterpiece, Mr. Grinch evolves into a solicitous, affectionate lover of Whoville and Christmas. The character maturation portrayed throughout the cinematic event solidifies The Grinch as the unparalleled titleholder of Christmas cinematic events.
A Christmas Story
By: Matt Faccio, Staff Writer
   Almost everyone has heard of the movie A Christmas Story, but with the year being on the brink of holiday season, that means it is about time to talk about this legendary movie. Now the fact that this movie is a classic does not make it amazing alone. A Christmas Story released in 1983, and has only gotten better with age. It could be considered tradition by some families to watch this movie at least once per holiday season, and why wouldn't it be if it airs for 24 hours straight from Christmas eve 8 p.m. to 8 p.m. Christmas day. All this for good reason too; this movie could be considered a number of things including iconic, timeless, and hilarious. If someone hears someone say "you'll shoot your eye out kid," almost anyone knows what they are talking about. This holiday season be sure to watch this movie, it truly earns the title of a holiday classic.
Santa Claus is Coming to Town
By: Brandon Foy, Feature Editor
   One of my favorite things about the Christmas season (besides the coffee of course) is the vast selection of holiday movies. One of my personal favorites is Santa Claus is Comin' to Town. The 1970s animated stop motion special is a timeless classic that was a major part of my childhood throughout the month of Dec. The film is based off of the fictitious story of how Santa Claus came to be. Kris Kringle, an orphan at birth, shows up to the Kringle household and learns the ways of toy making. As he grows up, he begins delivering their homemade toys to the town of Sombertown, but is greeted by the Burgermeister who denies him the right to spread cheer to the children of their bland and boring town. With the help of the Winter Warlock, the town teacher Miss Jessica, and his penguin sidekick Topper, the gang rally together to bring happiness and Christmas cheer to the dull, boring town. This movie is a personal favorite because not only is it a family tradition, but it is a timeless tale of spreading happiness and cheer to others, and who does not love that? For anyone looking for a family friendly holiday classic, I highly recommend this movie.
National Lampoon's Christmas Vacation
By: Ethan Irish, Staff Writer
   National Lampoon's Christmas Vacation is the best Christmas movie by far; it shows the struggles a family can go through during a family christmas. This movie is entertaining and funny. Chevy Chase is an amazing actor who plays the role of Clark Griswold perfectly. The movie begins with Clark and his family going to find the perfect christmas tree, and on the way there, the comedy of the movie starts with a slight traffic altercation. The movie continues to have comedy throughout. With all of the crazy family stuff, such as a squirrel getting caught in their Christmas tree, to the Christmas tree catching on fire, the family Christmas turns out all right. Clark and his family end up having one of the most memorable Christmases ever. National Lampoon's Christmas Vacation  is the greatest Christmas movie of all time, no doubt.
The Polar Express
By: Austin McCartney, Staff Writer
    The Polar Express is the greatest Christmas movie of all time. It supplies the perfect amount of cinematic excellence and nostalgia to top any other film this holiday season. Older movies, such as White Christmas and Miracle on 34th Street, provide that "classic movie" feel, but the movie itself is extremely boring. Newer movies such as Elf and How the Grinch Stole Christmas are entertaining, but they just do not have the euphoric elements and excitement of The Polar Express. The suspense of this movie is unlike any other. Throughout the entirety of the film, there are moments that will glue the audience's eyes to the screen, such as the train sliding on the ice, and going in to the factory in the North Pole. During the train ride to the North Pole, there is action occurring left and right. Most importantly, the creativity in this production is second to none. From the character detail, to different angles and point of view, the minds behind this masterpiece did an amazing job. Any other Christmas movie is second-tier at best.
A Christmas Wish
By: Robert Miller, Online Editor
   My favorite part of the holiday season is the variety of Christmas movies that air on television every day. My all-time favorite movie that airs on TV is A Christmas Wish, directed by Craig Clyde. The story follows Martha Evans, a mother of two whose husband takes off without warning, leaving her and her two children destitute and homeless. Struggling to take care of her children with bills and expenses slowly piling up, she takes up work during Christmas time as a waitress at the town diner, where she finds a whole town of people willing to take care of her. When her husband comes back from out of nowhere, she quickly becomes torn between going back to a horrible husband but being out of debt, or remaining poor but happy in her new town. A Christmas Wish is a classic Hallmark Christmas movie, and I'd highly recommend it for anyone looking to get into the Christmas spirit this Holiday season.
Jingle All The Way
By: Kelly Morgan, Staff Writer
   In my family, one of our Christmas traditions is to watch as many holiday movies as is humanly possible. One of these movies in particular stands out for its spectacular comedic acting and engaging plot. Jingle All The Way is sure to get a laugh out of even the most stoic viewer.
   The movie, released in 1996, follows the story of a man named Howard Langston, who is played by action star, Arnold Schwarzenegger. For Howard, work keeps him so busy that he hardly ever gets to spend time with his family. To make up for all that lost time, Howard promises his son, Jamie, to get him whatever he wants for Christmas, and Jamie decides on the Turbo Man action figure. However, Howard forgets about his promise until Christmas Eve. What follows is an exciting chase to find the toy, which is sold out everywhere. Through a series of misunderstandings, Howard finally stumbles on the true meaning of Christmas, learning that family is the most important thing of all.
   The story's meaningful lesson coupled with slapstick humor makes the film stand out among all the other holiday classics. It is also a chance for the audience to see Schwarzenegger in a more unconventional comedic role. It is entertaining for the audience who wants a quality comedy, and one who wants a feel-good story. It is sure to please anyone looking for a Christmas movie this holiday season.
The Nightmare Before Christmas
By: Raven Nava, Ad Sales Manager
   Halloween is now over and Christmas is around the corner, but for those who really love Halloween, the two worlds collide with the 1993 Tim Burton's film, The Nightmare Before Christmas. This movie is strongly debated if it is a Halloween or a Christmas movie. I believe it is both a Halloween and a Christmas movie due to the plot of the citizens of Halloweentown taking over the beloved holiday by kidnapping the "Sandy Claws," making their own Christmas toys, and having the main character becomes Santa Clause, while having their Halloween fun.
   The movie starts off the with main character, Jack Skellington, upset by the usual schedule of always getting ready for Halloween every year. He goes off and finds the doors to the other holidays like Easter, Valentine's Day, and of course, Christmas. He opens the Christmas door and discovers the new holiday. Jack starts to create the idea to take over Christmas and celebrate that with a Halloween twist of course.
    With catchy songs like "What's this?" and "Oogie Boogie's Theme," my friends always catch me singing along during the holidays! The Nightmare Before Christmas will always be my favorite movie because of the memories it gives me and I will always choose to watch this with my family and friends throughout the holidays. Merry Christmas!
Elf
By: Shari Wolke, Advisor
   Only the most memorable of films have classic lines which can be applied to any situation or context and spark a brief moment of nostalgia and togetherness in its viewership. Elf, the classic 2003 hit starring Will Ferrell, is such a film. "Buddy the elf, what's your favorite color?" is the perfect response to any inquiry. The most useful quote from Elf is, "We elves try to stick to the four main food groups: candy, candy canes, candy corns, and syrup" when anyone asks about your dietary choices during the holiday season. In short, Elf is not just for the young, but also for the young at heart.