Top Albums of 2018
The Dawg Pound discusses some of their absolute favorite albums from 2018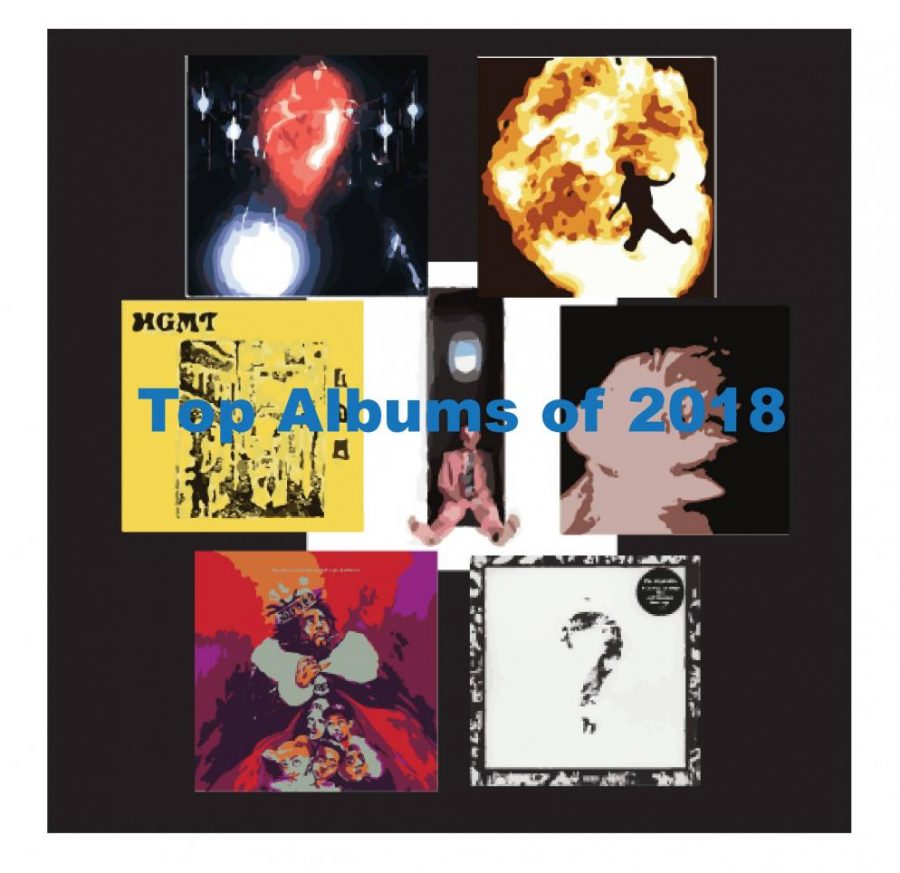 The Dawg Pound is a collective of The Comets' Tale's most knowledgable sports, music, and pop culture personalities. The group is made up of all senior gentlemen, that strive to be the best scholars that they can be. The fellas went into the lab and decided to cultivate a list full of their favorite albums of 2018. This isn't just in the world of hip hop and rap either, so there is something for all readers to enjoy! Thank you so much for reading, and make sure to enjoy ladies and gentlemen.
   Mac Miller's last studio album was released just one month before his untimely death. Miller's album mixed together what he brought to the table with his previous albums and mixtapes. He brings a soulful sadness in a way, like this was meant to be the ending to his story. Miller's depression and struggles with drug addiction are common themes in 'Swimming' even though he was just starting to get off of drugs. The emotional weight behind the music is what really makes it click for me. That being said I had been a big fan of Mac Miller for a long time and this being the last project he released before death is extremely sad, and is why it is one of my MUST listens of 2018.
Joji released his first album, Ballads 1, on Oct. 26, 2018. The album was masterfully crafted somber collection of deep, soulful well… ballads. Joji is a member of pop/rap boyband collective BROCKHAMPTON. Joji got his start as a Youtube personality under his alter ego Filthy Frank, while portraying the character he released the satirical album Pink Season under the alias Pink Guy. The instrumentals on Ballads is simple, but at the same time complex. Sad songs bring real relatability to the project.
"KOD album of the year, undebatebly."- a line from J. Cole's later released single, Album of the Year. KOD, Cole's fifth album, which came out in April, is the best album of 2018. On this album, Cole shows his elite versatility that has placed him in the top tier of the rap game. KOD contains hard hitting, deep, classic Cole tracks like 'Once and Addict', 'BRACKETS', and 'Friends'. The album also brings upbeat songs with modern flows. Even with the vast dispursity in the style of song, the album still possesses a common theme which is the topic of drug addiction and abuse. I think any open minded person could find at least a few songs on this album that they can enjoy and relate to. These are a few reasons why I think KOD is the king album of 2018.
    An album that flew under the radar and did not receive a ton of publicity before its release was Metro's only studio album of 2018, which made an explosion once it came out. The album had notable features in multiple tracks from artists like 21 Savage, Travis Scott, Swae Lee, and Gunna. The production from Metro was impeccable on almost every track. Songs I would definitely recommend listening to are "No More" and "10 Freaky Girls," which have more of a dark sound to them, and more mellow tracks, "Dreamcatcher" and "Borrowed Love."
   Many critics would argue that Post Malone's second solo album is not technically hip-hop, but since it qualifies as one here at The Comets' Tale, leaving this masterpiece off of the list would truly be a shame. A lot of the songs do sound similar, which is also somewhat of a criticism, but what makes this album great is that many of the tracks on the album are very appealing no matter what kind of mood listeners are in. Also, if someone likes one track, they will like them all, making the album virtually unskippable.
Two albums I would recommend to people that came out in 2018 are Goodbye & Good Riddance by Juice WRLD and ? by XXXTENTACION. Juice WRLD's album offers a different sound to hip hop music, bringing singing and less lyrical, heavy tracks. Songs like "Lucid Dreams", "Candles", and "Black & White" would probably be my favorite tracks on the album. Juice WRLD dropped the song "Lucid Dreams", about 6 months after the song came out, it started to blow up and many people became fans. Songs like "Candles" and "Black & White" when the album came out were my favorite due to their melody and production. Goodbye & Good Riddance was Juice WRLD's debut studio album and it put him on pace to become the industry's next one up.
    X's album is a different kind of album. I like the way he goes from sad & alone songs, to melodic tracks, to more of alternative songs that show more of dark side of X. This album was X's second album and his last album released while he was alive before his passing in June of 2018. A few songs in particular that I like are "Moonlight", "Floor 555", and "infinity (888)". "Moonlight" is one of X's most popular songs in his discography, and is one of my favorite on this album.  Another song that I like on this album is "Floor 555" which shows XXXTENTACION's heavy metal side that not a lot of people like.
   Another album that came out this year that deserves more credit is 'Memories Don't Die' by the Canadian rapper Tory Lanez. M.D.D. was Tory's second studio album which came out on March 2nd. The album contains a healthy balance between modern R&B and rap. Songs like "B.I.D." and "4 Me" are the epitome of 2018 rap, and they are perfect examples of songs that have gotten Lanez the notoriety he has today. The album also has features from popular artists such as Future and 50 Cent that help bring unique aspects to the album. 40,000 units of the album were sold in the first week, debuting it at No. 1 on the Billboard top 100. M.D.D. was a successful step in Lanez' ascend to the top of the R&B section of hip hop.
On May 11, 2018, Bladee released his 4th official project, Red Light. Bladee is a Swedish artist who has been rising for a few years because of his autotuned rapping/singing voice over futuristic beats. He was first known for his association with cloud rap originator and fellow Swede, Yung Lean. On Red Light, he captured his own image perfectly through his loose usage of the English language, and the darker experimental beats produced by White Armor featured throughout the whole album. Personal highlights of this album include "Golden Boy", "For You", and "I'm Goofy" as they encapsulate his entire Euro sad boy aesthetic with a diversity of sound. For an artist so hit or miss for most people, Red Light is very accessible for those that haven't acquired a taste for Bladee on past projects.
   MGMT- Little Dark Age  MGMT, a group popular in the late 2000's for hit song Electric feel, has returned to relevance years later because of the very well done experimental synth-pop album titled "Little Dark Age" they released on February 9, 2018. This album is overall really fun and has quite a few memorable moments when the balance of experimental and synth-pop elements coordinate perfectly. Personal favorite tracks include When You Die, Me and Michael, and Hand It Over. This was an album that definitely caught me off guard as this is not a genre I listen to regularly. Little Dark Age was a nice surprise album for me  and I would recommend it to anyone trying to expand into different styles of music.
Swimming and Ballads 1 – Joshua Blatt
KOD and Memories Don't Lie – Brody Conaty
Red Light and Little Dark Age – Noah Housler
Beerbongs & Bentleys and Not All Heroes Wear Capes – Austin McCartney
Goodbye & Good Riddance and ? – Ethan Irish