New York Times Finalists
Hang on for a minute...we're trying to find some more stories you might like.
   Recently, students from Grand Ledge High School became finalists for the 2018 New York Times Editorial cartoon contest. The editorial cartoon contest has been run the past four years, and has been a way for students to display their artistic ability while focusing on current events and topics prevalent in America.
   One student was sophomore Emily Felcher, who submitted a stunning piece titled "Ode to Stan Lee," which made her one of the runners-up in the contest.
   "My piece shows Stan Lee walking up the stairs to heaven to meet other influential people like Mr. Rogers, Bob Ross, and Walt Disney," Felcher stated. She also explained that she has always been a big fan of Stan Lee.
   "I've always really respected Stan Lee, and I wanted to make a cartoon showing how big of an impact he made on others," Felcher said.
   Another student who made it to the finals was Maddie Lyon with her piece about the wage gap, titled "Equality #Metoo."
   "I wanted to create a piece about a certain pressing issue and I decided that I should highlight how women in some fields can do the exact same amount of work as their male coworkers, yet still get paid less," Lyon said. Even though she chose to highlight the wage gap, she almost chose a different topic.
   "I sat down and came up with a list of ideas, and I almost did a piece on LGBT rights in America." Lyon said.
The third finalist in the New York Times Editorial cartoon contest was Roxana Hernandez, who created a piece critiquing the current vaping trend among teens titled "Then and Now." Roxy's work was a hand-drawn illustration, unique among most of the entrants, most of whom chose to use Adobe Illustrator.
   Lyon, Hernandez and Felcher now have their artwork displayed on the New York Times website, at: https://www.nytimes.com/interactive/2019/01/16/learning/editorial-cartoon-contest-2018.html
About the Writer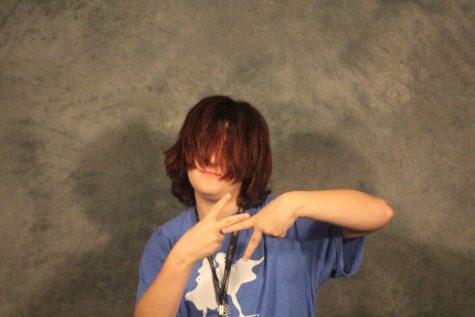 Robert Miller, Online Editor/Broadcast Editor
Contact Me: [email protected]

Robert Miller is a Sophomore at Grand Ledge High School. He is currently doing his second year in Newspaper for the...