I'm Dreaming of a White Christmas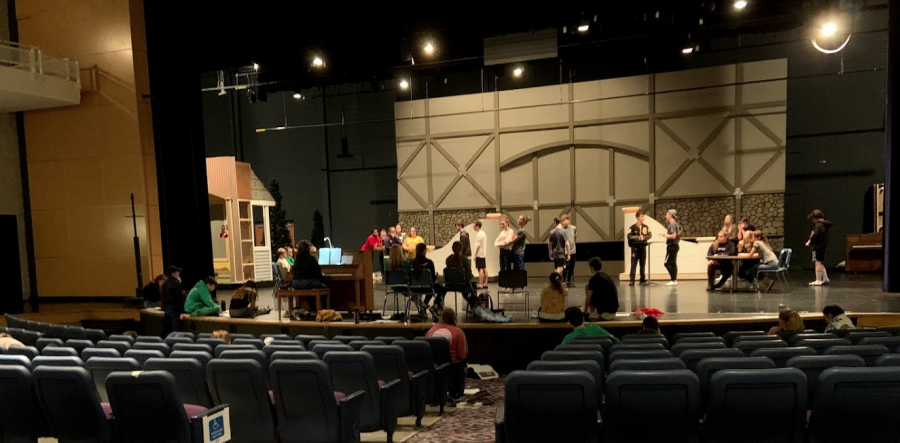 A fire crackling and stockings hung out of its reach on the mantle, plates of sugar cookies and fresh-smelling pine trees. A family gathers around the television in the living room and snuggles under a massive blanket. Everyone has those special holiday traditions that make the holiday season brighter. The holiday season is filled with different songs, movies, and traditions overall. There are television specials that play exclusively holiday classics and radio stations that blast Christmas tunes from November to February. This year, members of the Grand Ledge community can enjoy a new holiday treat: "White Christmas," as performed by Grand Ledge High School's talented music department.
    The musical rendition of "White Christmas" is about World War II soldiers Bob Wallace and Phil Davis, who are both part of a song and dance duo aptly named "Wallace and Davis."  After meeting and becoming enamored with Judy and Betty Haynes, a pair of singing sisters, the two men follow them up to their seasonal engagement at the Columbia Inn in Vermont.
    Over the years, Grand Ledge High School has done one previous performance of "White Christmas," and even then, ticket sales were great. With such big shoes to fill, students are hard at work practicing lines and dances so they will be perfect on opening night.
    "Right now, I really like the tap [dancing] for 'I Love a Piano,'"  JJ Sanchez, a dancer in the musical, said. "It's tricky, but it's… really satisfying to get it right." White Christmas contains many dance numbers, and with the opening night coming up soon, dancers are pressed for energy.
    "Some parts are fast, and it's very jazz-feel," Hunter Pouillon, a senior and a percussionist in the pit orchestra, said. Many pieces within the musical are actually written by Irving Berlin, a big face in the classical music industry. The pieces within the musical include solemn songs like 'Let Me Sing and I'm Happy,' upbeat songs like 'Love and the Weather,' love songs like 'The Best Things Happen While You're Dancing,' and many more.
    "'Happy Holidays' is a really good song, just because it's loud, it's at the very beginning," Sanchez said. "It's like the big opening to the show." 
    The pit and the actors are not the only ones putting in tons of work. The crew is also working hard on the musical, giving their all and keeping the practices fresh. The crew controls much of the set movement, lighting, sound, and special effects during the shows. 
    "I'm the script reader for lights this year," Mikayla Shaltry, a part of the tech crew and a sophomore at GL, said. "It's kind of like second-in-command to the Head of Lights, and you tell the head of lights what to do. It's kind of an important job- if you mess up, everything messes up."
    There will be two casts during the performances: the Gold cast and the Blue cast. The Gold cast features Sam Kuntzsch as Bob Wallace, Max Schaefer as Phil Davis, Bella Seigo as Betty Haynes, and Mariella Battley as Judy Haynes, as well as Taegan Byers as Martha Watson, Foster Anderson as General Waverly, and Josslayn Sanchez as Susan Waverly. In the Blue cast, Brandon Foy will be starring as Bob Wallace, Travis Hunt as Phil Davis,  Madeline Smith as Betty Haynes, and Isabel Browning as Judy Haynes. Also in the Blue cast are Becca Bovee as Martha Watson, Landon Wright as General Waverly, and Lucy Clark as Susan Waverly.
   Parties interested in joining Grand Ledge High School in their holiday celebration can visit  glmusicals.net for further information about ticket purchases.