A Legend has Fallen, Mamba Mentality Lives on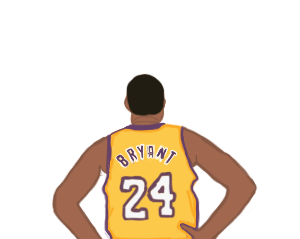 Earlier this year, a tragic helicopter accident occurred in the hills of Calabasas, California resulting in the death of nine beautiful souls. Two of these passengers made national headlines and silenced a nation within minutes: 41 year old Legendary NBA player Kobe Bryant, as well as his 13 year old daughter, Gianna, had passed away.
    Kobe and Gianna are survived by loving wife and mother Vanessa Bryant as well as their three other girls, Natalia(17), Bianka(4), and Capri(7 Mo.). Kobe was not only a hero on the court, but also inspired those who came before and after him to keep pushing. His "Mamba Mentality" and will power to break barriers and give nothing less than all of yourself into your craft and everyday life was a global inspiration.
    According to multiple major news sources such as the New York Times, the helicopter should have never flown that day. Many commercial and private flights had been grounded indefinitely according to LA Times, as the visibility was too bad to fly. Kobe and his young hoopers and coaches still walked through those glass doors and cozied up in the helicopter. The helicopter was not equipped with proper terrain detecting gear and, ultimately, it was the pilot's decision as to whether or not they would fly and they did. They did their best to follow the I-5 highway, but the clouds proved to be too much and they nicked the mountains next to a trail locals call "millennium". Trail bikers and sheriff deputies arrived as fast as they could, but there was no chance of survival.
    The Mamba Mentality means more than just pushing yourself on the court. "To sum up what Mamba Mentality is, it means to be able to constantly try to be the best version of yourself," Bryant said in a 2016 Interview. "It's a constant quest to try to be better today than you were yesterday." He pushed everyone, no matter how old or talented, to better yourself and appreciate life as they go along. So, to Kobe, Gianna and the Bryant Family, we love you and we thank you for all the beautiful lessons over the years. The loss of the nine people on that tragic day will not be forgotten for the rest of history, and neither will the Mamba Mentality. As far as Kobe fans go, there are varying degrees. There are die hards, fans out of respect for his game, and fans just of Kobe as a person. What everyone on this beautiful earth can agree on, is that his mindset was that of a legend. 
    Rest in Peace to Kobe and Gianna Bryant, to John, Keri, and Alyssa Altobelli, to Christina Mauser, Sarah and Payton Chester, and the pilot Ara Zobayan. My heart goes out to them and their families. Hold your loved ones close and tell them you love them everyday, you never know the last time you'll see them. Mamba Out.