Online School: Toll on Teachers
    As alarm clocks sound, bedrooms become classrooms and sleepy teens become online students. Whole classes fit into a computer screen and the school day is spent juggling zooms and asynchronous work instead of backpacks and folders.  For most, the line between school and home is blurred, students and teachers alike struggle to find a balance. Teachers carry the brunt of the work as they have to adjust to a new form of teaching and make sure they are giving their kids the best opportunities they can but also having to learn new things right along with their classes. As online school started in the fall, everyone went through an adjustment phase. Now 5 and half months later, routines have been set, expectations have been put in place, and learning is happening in any way it can. 
   Online learning is obviously not the same as in-person learning, but that does not mean it is without positives. A major positive to come out of this past year is teachers have been given the chance to learn and deeply understand technology and the tools available to them in this technological age.
    "I know a lot more about technology than I ever did before this and I have been given the time to learn it," Jill ford, a fourth grade teacher at Willow Ridge Elementary, said. While technology is used when in person, it takes a back seat to the traditional ways of teaching.  Due to the necessity of needing to use technology for online learning, most teachers have become highly competent in using Zoom, Google Classroom, etc. and will be able to implement new strategies when students return in-person. Technology is not the only positive. Online learning has allowed teachers to have more of an inside look into students' home lives.
    "I think online teaching has also given me a humbling look into the family situations in our districts and the disparity between them. Some families have great spaces, great opportunities, and great time to do wonderful things with their kids while some are working with the bare minimum and doing their best," Hayley Mund, a first grade teacher at Beagle Elementary, said. The Grand Ledge Public School system has a vast variety of socioeconomic classes and online learning has helped teachers see that and understand their students a bit better. Knowing that a student is bouncing in between two houses or they are struggling to get the help they need from parents, has given teachers a better picture of what the expectations need to be for each student, especially at the elementary.
    "Different students have different home situations, which we already know, but getting a real vision of them should and will change the way we handle things like homework, family projects, and even communication with parents in the future," Mund said.
Getting a clearer picture of the students has many benefits and is something that teachers can take with them whether continuing online or going back in person. It helps the teachers individualize their teaching even more and allows for greater understanding of a child. 
    While there are many benefits, an acknowledgement that this is an abnormal situation to be in and it has come with its share of challenges is also necessary. Teachers and students a like have struggled. Teachers have had to build the ship while sailing it in a sense. They have had to transfer all their lessons online and juggle between making sure students are getting what they need while also having the ability to accomplish that learning online.
    "I've had to think of different, creative ways to present and practice concepts with students," Kathryn Dietzel, an upper level Spanish teacher at Grand Ledge High School, said. Teachers across the board have had to be creative. From making engaging plans in first grade, to finding online platforms to record videos speaking Spanish at the High School, teachers have made it work. Kids need that creativity to try and combat all the missed opportunities that come from online learning.
   "Kids are missing out on social interactions with each other, celebrating each other, failing together; everything that we preach at the beginning of a "normal" year about being a team and a family has gone out the window," Mund said. Across the board, students are missing out on experiences and opportunities. High school seniors have missed out on the fun traditions of their last year of school. First graders have missed out on building social skills. Freshmen have missed out on the transition to high school. Third graders have missed out on going to the capital. Each grade has something that makes it unique and special and students have missed out on that. This is one of the sad parts of online learning. Most teachers would love to have kids back in person. It is what they are trained for and what they know best. But that is not a safe possibility right now
    "I enjoy seeing my students every day and the fun activities we do when things are normal. But things are not normal, and in-person school won't look the same for us. Providing high quality online learning is my preference," Dietzel said, "For now, I'm grateful that I've been able to keep myself, my family, and my students safe while teaching from home."
The pandemic was unexpected and it has created a lot of challenges. Teachers have made it possible to continue learning while staying safe. They have enabled kids and parents not to have to worry about getting Covid-19 or spreading it because they can stay safe at home. Their work is what is going to help kids come back in person soon. They are the reason that even though students have been out of the classroom for a year, not all learning was lost. 
    Teachers play an influential role in a child's development. The relationships they build help them grow and become who they want to be. A big worry for online learning was how that relationship would be built. 
    "I am all about building the relationship and then the teaching and the learning just builds on that relationship," Ford said. That foundation of trust is fundamental to a child's learning. That relationship needs to form in order to be successful in the classroom.
    "As teachers our number one priority is building relationships. If I haven't built a relationship with every student in my class, they aren't going to learn anything from me," Mund said. A child is more receptive to learning when they have a relationship with who they are learning from. So even though it is harder online to form that relationship, teachers are still making an effort through emails, weekly surveys, continuing good news everyday, or greeting the kids when they log onto zoom each morning.
    Teachers in all grade levels are working hard to do what is best for their kids. They are coming up with new strategies and ideas to engage students. Students are on the forefront of minds when thinking about online learning. However, this is an adjustment for students, teachers, administrators, and more as everyone has had to adapt to online learning. Teachers have had to struggle and learn just like students. They are doing what they can to ensure that the students are being given every opportunity available to them. Teachers are why online learning has worked at all.
---
Online School from the students' perspective;
About the Writer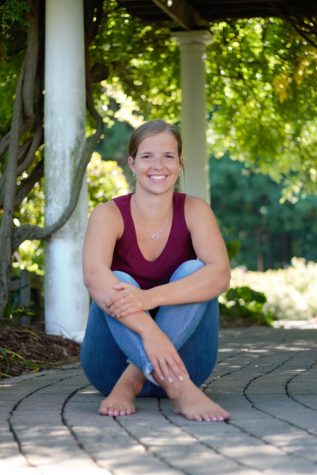 Olivia Vanderlaan, Editor-in-Chief
Contact me at: [email protected]

"Being in the pool hasn't always been a part of my life. When I was younger, I used to cry when I had to go...