2021 Powderpuff
Powderpuff, the kick off of homecoming week, one of the most competitive nights all year. Each grade has a team made up of all girls, the seniors playing the sophomores and the juniors playing the freshman. The winners of each game play each other for the final game to officially determine which grade is superior. Majority of the time the seniors win. 
This year, when the seniors played the sophomores, the seniors won 25-6. When the juniors played the freshman, the juniors won 40-0. In the final and most competitive game of all, the seniors won against the juniors with a final score of 14-0. 
Some may argue the game is rigged to let the seniors win every year, because how could the seniors possibly win every single year?
"I do believe it's rigged, the referees were very unfair with their calls towards us" Emily Wallas stated, who played on the sophomore team.
"There were many times when the seniors were very rough with us but nothing was called" Wallas said.
You can really see how competitive Grand Ledge is when it comes to sports; everybody just wants to win. However, in the end, it's all just fun and games, and the seniors are just trying to enjoy their last year in high school.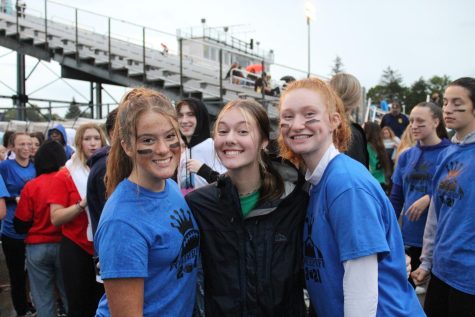 The powderpuff team is also a great place to meet new people and make new friends. Anybody can be a part of the team as long as you sign up when the sheets go out at the beginning of the year.
"I thought it would be a great way to socialize and get to meet new people" Wallas said.
She recommended that everybody should play for their grade so they can meet new people and overall, just have some fun.
You don't have to be good at football to join the team, nobody really knows what they're doing. And you never know, you could be the next Tom Brady…
"It's a great way to kick off homecoming week and even if you don't play, it's a great way to support our girls and support the GLHS Student Council", Wallace mentioned.
So remember, next year when the sign up sheets go out, make sure to sign up for this memory students will never forget.