Senior Kick-Off
  Grand Ledge High School sports are kicking it off with senior nights. It is a big night for all the seniors in the Marching band, cheer, dive, swim, volleyball, pom, and football. For it is the last time they are playing on the home turf of Grand Ledge High School.
  Every year, Grand Ledge honors all seniors on a special night just for them. This year will be the first normal year for the past 2 years where we get to honor all the seniors. To celebrate the seniors, before the game each player gets announced with their parents onto the field/court and gets honored for all of the hard work they did to get where they are at right now.
  "I think the most memorable moment would be our game against Okemos last year. It was a really tough game, but we fought hard and beat them for the first time in 5 years," said Jenna James, varsity volleyball senior.
   To start off the exciting night for the seniors was the Grand Ledge Varsity football team playing the East Lansing Trojans. Grand Ledge was 5-1 before their senior night on October 15th. For the senior night game Grand Ledge took on the East Lansing Trojans.
  The seniors this year are Caden Andriessen, Austin Blackwell, Nathan Bloomer-Samuels, Adam Blue, Reese Cordahl, Colson Currie, Nathan Droste, Nathan Edlin, Brendan Hoquard, Noah Holland, John Kelly, Jeffery Kolb, Preston Lowell, Jodi Mainor, Ethan McCartney, Reilly McCrackin, John Pastras, Jackson Raymond, Benjamin Reynolds, Christopher Reynolds, Weston Rodriguez, Audun Saetermo, Evan Starmer, Zachary VanderPloeg, and Caden Walsh.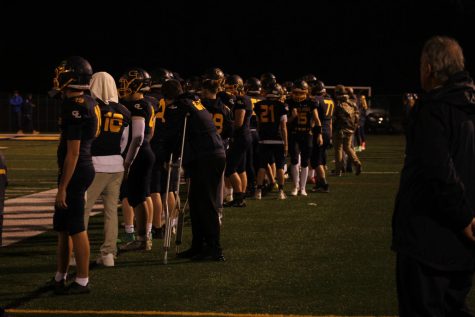 Unfortunately, the varsity football team fell short , 27-12 taking their record now to 6 wins 2 losses, but it sure was a night to never forget for the seniors.
   October 15th Grand Ledge also got to celebrate cheer, pom, and band senior nights. The seniors on Varsity cheer this year are Emily Evans, Jourdan Girven, Sophia Johnston, Flora Kulang, Hailey Schafer, Olivia Schelling, Olivia Strayer, Darby Wilson and Tennile Wirtz.
   The senior leading the varsity pom team this year is just Ella Townsend. Lastly the Marching band seniors are Deseo Badillo, Margaret Baribeau, Colton Bennett, Luc Bennett, Allison Block, Joseph Brown, Olivia Buchweitz, Elisabeth Burger, Garrett Callison, Ethan Childs, Danielle Cole, Emily Crofut, Braden Dennis, Amelia Diaz, Arielle Eagle-Moore, Madison Fischer, Jade Friedlis, Amanda Gatewood, Elizabeth Golisch, Hunter Goodwin, Sonia Harris, Isaac Hinshaw, Connor Huhn, Blake Johnston, Willow Kludy, Emma Louterette, Melinda Lawhorn, Sarah Lawrence, Will Leisenering, Emma Lindsay, Jacob Little, Alex Matthews, Evan McLaren, Will McNeilly, Micheal Megliola, Connor Mosher, Collin Neely, Alex O'Connor, Madelyn Prince, Kesley Richardson, Ian Richburg, Molly Scherer, Kylee Skutar, Rayvin Smith, Helen Spehar, Josie Starr, Noah Vandlen, and finally Charlotte Werth.
  With Pom performing an amazing performance at halftime, it was followed by another outstanding performance by the Grand Ledge Marching Band.  And as always, the Varsity cheer team doing an amazing job at getting the crowd hyped before and during the game!
  "My favorite part of playing football for Grand Ledge has been all the friends I've made over the years and the relationships I've built. I'm definitely going to miss the crowds and adrenaline you get when running out of the tunnel and the whole atmosphere." Football Senior Nathan Droste said.
   Varsity volleyball has had an amazing season so far with a record of 6-1. The seniors on the Varsity volleyball team are Alyssa Costello, Ella Didion, Jenna James, Megan Reynaert, and Sydney Weiler. The last home game for the Seniors was October 21st against Dewitt. Sadly the Grand Ledge Varsity Volleyball Team took a tough loss against Dewitt taking their record now to 6-2. Varsity has had an amazing season with all the amazing seniors that have made a big impact on the Grand Ledge volleyball team.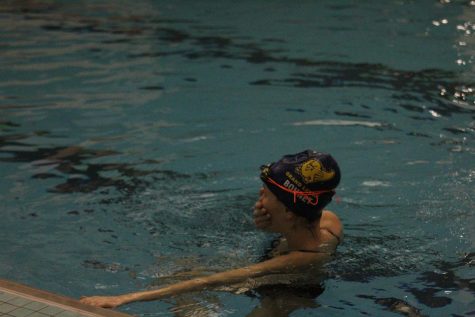 Moving onto the Swim team, their senior night was also October 21st with a record of 3-4 before their meet. The seniors on the Varsity swim team are Samantha Bohnet, Alexandria Diller, Jade Friedlis, Alyssa Rainsberger, Olivia Martinsson, Maria Valdeon-Lopez and Amina Vakili. 
  The varsity swim team went against Haslett on their senior night. Fortunately for the seniors, the varsity swim team took a huge win over Haslett, now taking their record to 4-4. The seniors last home meet will be a night to remember knowing it is the last time they are competing at Grand Ledge High School.
  "I have been competitively swimming for 11 years. My favorite memory from GLHS swim has been having fun with my teammates at our conference meet. Everyone goes so fast and it's great to cheer each other on. We need more people to join the team!" Says Senior Swimmer Alyssa Rainsberger.