Thanksgiving Traditions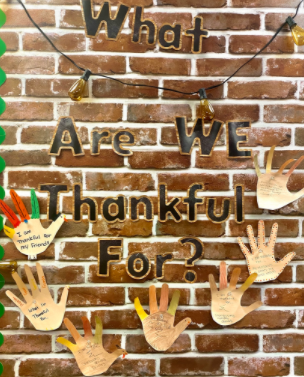 Turkey season is finally here, with the weather getting colder and the trees losing their leaves, it is that time of year to celebrate our year of gratefulness. 
  Thanksgiving is always the fourth Thursday of November; this year, thanksgiving lies on Thursday, November 25th. This holiday originated from the pilgrims by having a feast and celebrating the harvesting and blessings of the past year. Thanksgiving is celebrated by most people by having a big dinner with loved ones and sharing what they are thankful for.    
  "We always watch the Lions lose in spectacular fashion every year, and I go either to Chicago or to my grandma's house for thanksgiving," said Landon Birchmeir, a student at Grand Ledge High School.
   Many different people have their own Thanksgiving favorites. For the food, the main course that is shared is the Thanksgiving turkey. Turkey is used as the main course, because the Pilgrims provided wild animals for their feast which was always turkeys or some sort of bird. Along with turkey, the dinner was always served with a side, many people have different preferences on what they like with the turkey, or what dessert they like with their dinner. 
  According to a poll between having mashed potatoes or having stuffing with the turkey, the fan favorite by 40% was mashed potatoes. The second choice was apple pie or pumpkin pie as they're both desserts. It was a close one between the two, but by 10% apple pie was the favorite.
  All around the world many people share their thanksgiving traditions like watching football, eating their favorite food, and being with their loved ones. One way everyone can all celebrate is watching the Macy's parade in New York City, it is broadcasted on NBC network at 9 AM, on Thanksgiving day.The Macy's parade is a parade known for its 10 story tall balloons and famous cartoon and pop culture characters. All the employees of Macys create their own Helium balloons and present them in the big parade.