COVID-19 Strikes Again
 COVID-19 cases in Eaton County have been rising rapidly, as well as the death rates. COVID-19 showed a big incline in numbers at the beginning of November and leading into January.
"Eaton County is in the CDC's high/red risk level for transmission with 33.1% test positivity and 1,485.5 new cases per 100k," said John Ellsworth, Director Of Communications at GLPS.
Over the past two months, COVID-19 cases have increased to more than three thousand cases per month, and the death rates are the highest they have been throughout the pandemic with 326 deaths recorded at the beginning of January. For reference, at the beginning of December the cases were at 16,288, and now at the beginning of January the cases are at 18,365.
With  COVID-19 cases increasing, there is now new CDC guidance on COVID-19 Isolation and Quarantining. The CDC recommends that if someone has been exposed to COVID-19, regardless of  symptoms, a test should be administered at least five days after contact has occurred. If the test comes back positive and a person has not been up-to-date with the COVID-19 vaccinations, that person must quarantine for up to five days and watch for symptoms until 10 days after testing positive. For someone who is up-to-date with COVID-19 vaccinations, quarantining is only necessary if symptoms develop. 
"Day 0 is your first day of symptoms or a positive viral test. Day 1 is the first full day after your symptoms developed, or your test specimen was collected. If you have COVID-19 or have symptoms, isolate for at least 5 days," states the Center of Disease Control and Prevention.
Along with all the COVID-19 cases , there also has been an all-time high in Eaton County for the deaths related to COVID-19. At the beginning of December, there were 282 deaths in Eaton County and now, mid-January, there are 336 deaths related to this virus. COVID-19 cases and deaths have been seen to rise the most significantly due to the holiday season.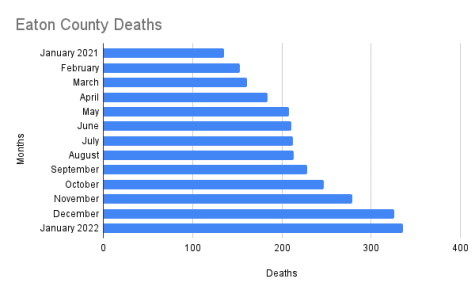 Although there seems to be a steady increase in COVID-19 cases in Eaton County, it is important to stay safe and be aware of surroundings. Just remember, Eaton County is not the only one going through these changes. 
Leave a Comment
About the Contributor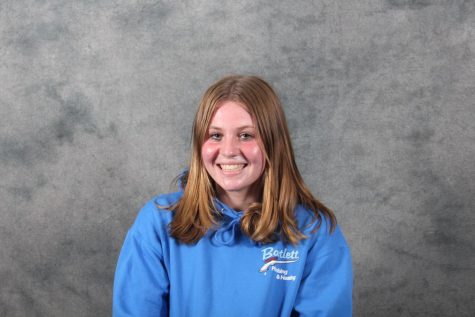 Madison Bartlett, Staff Writer
Hello my name is Madison Bartlett and I'm in 10th grade and I am a staff writer for the newspaper. I have gone to Grand Ledge Schools my whole life and...