The BIG Dance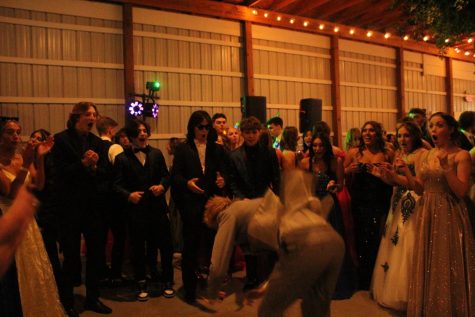 The BIG dance commenced on Friday May 6 at Hidden Creek Farms. With an ice cream truck, snacks, games and music, students were thoroughly entertained. This year was the first year that prom was like it was before COVID-19,with no masks, no social distancing and a
very fun time.
  Before the dance even started, there were weeks spent planning one of the most important events of the school year. The hard work and preparation Student Council put in really paid off.
 "I think the hardest part about planning prom was figuring out the decorations we wanted and didn't want while trying to keep the cost down," Alyssa Navin, a Senior on Student Council said.
 Not only was Student Council putting in a lot of preparation, students who attended also did. Trying to find the perfect dress or suit could prove to be a challenge. Some students got their outfits just a few days before the dance.
  "I found my dress the night before prom and it was very stressful because I couldn't find the 'Perfect Dress' after going to many stores," Junior, Kate Vang, said. 
   Preparation for such a big day can include hair, nails, makeup, lunch, and dinner plans. Some students spent a lot of their day doing these things to make sure that they looked perfect for prom.
  "I hung out with my friends, ate sushi and did self care to prepare for prom," Senior, Emily Crofut said.
  Another big part of prom night/day is pictures. Picture location is very important. A popular spot
was the Opera House in downtown Grand Ledge.
 "I got my haircut and makeup done for prom before I went home and did some touch ups before  I left for pictures," Senior, Brija Fradette said.
  The night started off with a backed up parking lot and walking through the mud. The parking lot was small for how many people were there, but they somehow made it work for the people who got there early.
  "The parking lot was bad, I thought that my car was gonna get stuck," Junior, Andy Gutierrez, said.
  When students got through all the mud (since it had rained earlier) they walked to the extremely long line to get in. The downside was that the barn was on the smaller side and it was packed.
  "I liked the location but there wasn't much space," Sophomore, Marissa Whetter, said. 
  Prom had a new vibe then the other school dances from this year. While they still stuck to the classics like "What Makes You Beautiful" by One Direction, the new DJ also played a variety of things. He played "First Day Out" by Tee Grizzley, some Daddy Yankee, Cardi B's "Up," and a crowd favorite "Starships" by Nicki Minaj. The dance floor was very crowded with people dancing, Jumping and singing everywhere. Especially, when "First Day Out" and "Mo Bamba" came on. Students went crazy.
  The dance circle had everyone hyped and moving for whoever was in the middle. There were backflips and a variety of Tik Tok dances. Students even started a crowd surf that was quickly shut down by school officials present.
  After everyone had their fill of dancing, snacks and ice cream, the dreaded parking lot came back into play. Now, at 10 p.m. it was even colder walking through the mud when it was pitch black outside.
  "My car got stuck in the mud and had to be pulled out by a tractor," Junior, Morgan Bagneschi, stated.
 To say the least, leaving Prom was a struggle since everyone left at the same time. It quickly got chaotic. Despite that, everyone made it home to participate in their after prom activities, whether that be an after party or just going home and having a sleepover with friends.
 The Seniors, Juniors, and a few Sophomores were able to have a great time at the last dance of the school year. Even though some parts of the prom were questionable, everyone seemed to have a good time, parking and all.