Newsies Stop The World
Hang on for a minute...we're trying to find some more stories you might like.
   From Nov. 8-11, 2018, Grand Ledge High School will be playing the student-run musical Newsies. Newsies is based upon the Newsboys' Strike of 1899. In this historical event, in an attempt to beat sales of rival newspaper publisher William Randolph Hearst Sr. of Hearst Communications, New York World publisher Joseph Pulitzer raises the price that the newsboys must pay to receive papers to sell, incentivizing them to go on strike. For this play, many talented GLHS students have stepped up as actors, one of them being Cameron Palmer.
   "I am going to be playing Jack Kelly, the leader of the strike," said Palmer. "I have been in a lot of different roles, from being Captain Hook in Peter Pan to the forest in Charlie Brown."
   Another actor is Josh Irwin, who is on an alternate crew for the musical. There are two crews of actors who will be performing throughout the showtimes, known as the Gold Crew and Blue Crew.
   "I am the [alternate for the] lead role of the musical, Jack Kelly," Irwin said. Irwin is incredibly optimistic for the play and he thinks that the crews will be ready for showtime in Nov.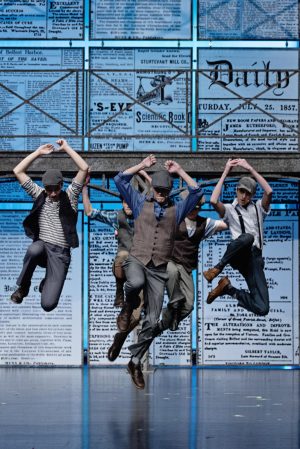 "Right now we're getting into the crunch time area, so I'm kinda nervous but I'm also really excited," said Irwin.
   Dance Captain Travis Hunt is also really excited to be in the musical and he really enjoys his role in making sure the musical goes smoothly.
   "As Dance Captain, I really enjoy being in control and making sure the dances are being done well," said Hunt.
   In addition to being Dance Captain, Travis is also going to be playing the role of Albert DaSilva in the musical. Albert is one of the newsies who went on strike to demand a livable wage.
   Another amazing actor on the play is Taryn Riekse, who is also the co-student director. In addition to directing, Taryn will also be playing the role of Medda. Medda is a performer and owner of Irving Hall, which is now known as the Irving Plaza in Manhattan, New York City.
   The musical will be held in the auditorium over the four day period, with each crew getting 3 performances. On each day, there will be a performance at 7:30 p.m., and an additional performance on the weekends at 2:30 p.m. The cost of admission for each performance will be $15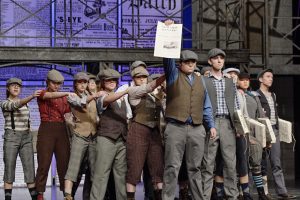 for adults and $12 for students and children. For more information on the musical, check out the Comet Talk Podcast at https://glcometstale.com, where we speak with actors as well as the members of the tech crew.