Looking Ahead to March Madness
Hang on for a minute...we're trying to find some more stories you might like.
   As the college basketball regular season nears an end, the fight for a spot in the NCAA's coveted March Madness tournament begins. There are huge favorites, heavy sleepers, and teams with an extremely long shot to even get in. The teams are as unpredictable as Michigan weather, and every major conference has them.
   In the Atlantic Coast Conference (ACC), the best teams are pretty obvious; Duke, Virginia, and North Carolina have all asserted their dominance and proven themselves as contenders to win it all. Duke has one of the best freshman classes in recent memory with RJ Barrett, Cam Reddish, Zion Williamson, and Tre Jones. Inexperience is the biggest concern for this core group, but in terms of pure talent, Duke has the greatest chance out of all of the teams in the ACC to bring home a title. Virginia plays a very disciplined, boring brand of basketball, but they get the job done. With Kyle Guy and De'Andre Hunter leading the charge, the Cavaliers are also without question a favorite. Hopefully they do not find a way to lose to another 16 seed this time. North Carolina lacks the talent of previous Tar Heel teams, but they have been winning games, and seem to be gaining momentum heading into March. They may certainly not have the prowess of their 2017 national championship team, but this is not head coach Roy Williams' first rodeo, so UNC is still a threat. As for sleepers, it gets a little tricky, but two teams that look like they can make a big impact are Florida State and Syracuse. Both teams have made pretty far runs in the tournament recently, and although they might not be seeded extremely high this year, they could be the most dangerous sleeper teams come March.
   While looking at the Big Ten, there can be a case made for a lot of teams, but the two teams that are playing above the rest are Michigan and Michigan State. Some would argue that Purdue is also on the rise, but the Boilermakers have not made it to the Elite Eight since the turn of the century, and have not reached a Final Four since 1980. Michigan appears to be the most complete team in all of the Big Ten and possibly the country. They have a consistently tenacious defense, and if they have even an average shooting night, it is very hard for the Wolverines to fall to their opponent. Michigan State lost a very important piece to their team in starting guard Josh Langford, but since then the Spartans have made adjustments and still have good enough overall talent and coaching to make a deep run. There are a few potential sleepers lurking throughout the conference, but the team that has the greatest chance to go far that is not necessarily supposed to is the Wisconsin Badgers, and for two reasons. One, they have the history to prove that they can play well in March. Also, Ethan Happ is one of the best big men in the Midwest, and having to cover him gives opportunities to guards with good shooting, creating a lethal offense to utilize in the tournament.
   The Southeastern conference (SEC) lacks the depth of conferences like the ACC and Big Ten, so there could be as little as five or six teams making the tournament, but Tennessee and Kentucky are putting in a lot of work, carrying the load for the rest of the group. Both teams are clearly better than any other teams in the conference. Tennessee has a potential SEC player of the year in Admiral Schofield, and they are currently ranked above any other SEC team. However, when placing bets on one team in the conference, it would actually be smarter to go all in on the Kentucky Wildcats. Head coach John Calipari will most certainly have his team prepared for the tournament, just like every year. Also, this team has looked unstoppable recently, and if this year is similar to the others, Tennessee will not last long in the tournament, and possibly will not make it past the first weekend. As for sleepers, the SEC really does not have any. Maybe Auburn could make a run, but other than that there is no apparent true threat besides Kentucky.
   The Big 12 currently is the most balanced conference in all of college basketball, which is very unusual, because Kansas has ruled the Big 12 for the last 14 years. The Jayhawks might still be the best team in the conference, but the competition gap has slimmed to almost nothing. Kansas has lost their star center Udoka Azubuike for the rest of the season, and LaGerald Vick took a leave of absence as well, really hurting their team. However, Kansas is still my favorite to do the most out of all of the Big 12 teams. Other Big 12 threats are Kansas State, a team that made a deep run in the tourney last season, and Texas Tech, led by their explosive guard Jarrett Culver. There very well could be a team making the Final Four from the Big 12, but it is a total mystery as to who.
   Then there was the PAC 12. As much as I wanted to forget about this abomination of a conference, it would be unfair to leave them out of the conversation. Washington has muscled its way to the top of the standings and appear to be top dogs in March as well. A shaky offense and a good defense is what gets this Husky team going, and their leading scorer Jaylen Nowell has made a huge impact, and will seek to continue to do so. It is hard to see initially who else in the PAC 12 can make any sort of mark in March. Before the season started, Oregon looked to be a legitimate contender, but now with Bol Bol sitting out the rest of the season, their team looks depleted. The only other team besides Washington that could go deep would be the Arizona State Sun Devils, and actually they have potential to go farther than most think. Of course there is no way one can truly know, but ASU might go as far as the Elite Eight.
   As for other teams not in major conferences, there are a few standouts. The two biggest are Gonzaga and Nevada. Gonzaga is a regular in terms of contention to cut down the nets, and the Nevada Wolfpack is one of the most explosive teams in all of college basketball. The main argument is that neither of these teams have played a competitive team yet, which is somewhat true. However, in terms of the eye test alone and past success in March, both programs are in a great position this 2019 season. There is another team that many are very high on. The Marquette Golden Eagles have looked phenomenal, but do not expect too much of them when the postseason gets rolling, and this is why. Marquette is extremely dependent on Markus Howard, their star player. One off game from him, and the season could go to a screeching halt.
   Of course, since this is college basketball, absolutely anything can happen. However, when filling out a bracket this year, it might be a good idea to go back to this and see what teams to bank on, and what teams to not trust heading into the big dance.
About the Writer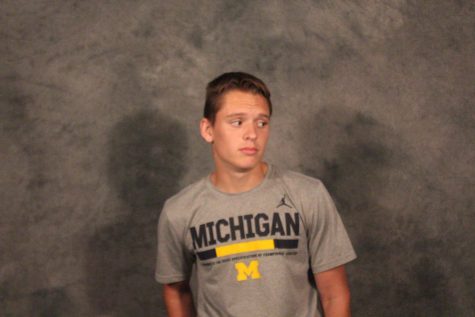 Austin McCartney, Staff Writer
Contact Me: [email protected]

This is Austin's first year on staff. Other than writing for The Comets' Tale, he enjoys playing various sports, such...