GLHS Sports Workouts
GLHS Sports Workouts
Grand Ledge High School this past year has shut down most of its sports and activities due to the worldwide pandemic. Most athletes haven't been able to play their season or practice with their team, however, that is changing. Sports and sports workouts are gradually making a comeback, many sports are beginning practice and workouts. 
Football workouts began on January 24th. In these workouts "Students lift weights and get stronger in preparation for the football season," Even though these workouts are allowed students are required to wear their masks the whole time and sanitize their hands in between workouts. Students also need to attempt to socially distance at least 6 feet. These workouts take place in the high school weight room and usually last 30-45 minutes. During these workouts, only 12 students are allowed in the weight room, and they are split into groups of 6. This is so even if a student has the virus he may only spread it to a couple of students. The information I got from for this is paragraph is from an article titled Grand Ledge Junior Varsity on the website grandledgecomets.org.
In addition to football workouts starting, baseball workouts started on February 5th. Baseball workouts offer two baseball training sessions on the weekends and one workout session on Wednesday. "For the weekend sessions, athletes field ground balls in the gym and for the workout sessions, they lift weights like in football," Baseball player Ryan Stanley stated ¨These workouts are mainly to get us back in the swing of baseball practices and training, we wear masks at all times and we also try to socially distance.¨ He also said ¨These workouts are supposed to last half an hour but are usually more around an hour.¨ In these workouts, all students are allowed to attend but they are divided by grade. From 9:15 am to 10 am Seniors and Juniors attend, from 10 am to 10:45 am Sophomores workout, and from 10:45 am to 11:30 am Freshman will go. I got this information from the same article as I did for the football, titled Grand Ledge Junior Varsity on the website grandledgecomets.org.
About the Writer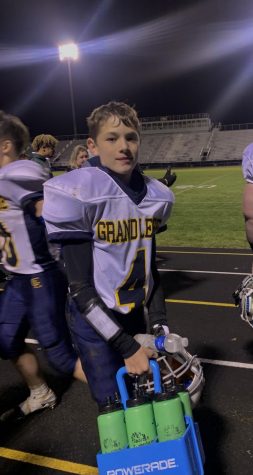 Jameson Patten, Staff Writer











Jameson‌ ‌Patten‌ ‌is‌ ‌a‌ ‌freshman‌ ‌at‌ ‌Grand‌ ‌Ledge‌ ‌High‌ ‌School.‌ ‌He‌ ‌is‌...