Michigan Track Athletes take on New Balance Indoor Nationals
Liam Elder, Staff Writer-Photo Editor
March 21, 2022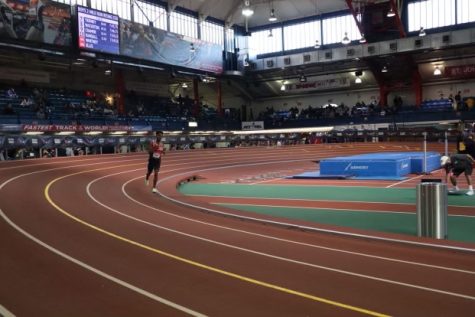 To most, winter is a time of relaxation and rest. A time to recover from all the adventures of spring, summer and fall. A time to stay inside. But to runners, who are not like most, it is a testament to dedication and grit. A time to keep pushing even when it's cold and snowy. This rings true for these Michigan high school runners, who have just shown off their winter gains at the New Balance Indoor Track National Championships (NBIT) in New York City. 
   Riley Hough is a senior out of Hartland, Michigan. He is a 3 times state champion and the 2021 cross country national champion. At NBIT he competed in the full two mile and the full one mile. He placed 8th in the two mile with a time of 9:00.29 giving him All-American status, and 10th in the one mile with a time of 4:07.38. While these performances are not his greatest feats, they are a step in the right direction. These times will certainly drop come outdoor season.
   Another top performer was senior Jeremy WIlliams from Lapeer. Jeremy competed in the 5000 meters, or exactly 3.1 miles. Jeremy set the tone from the beginning of the race, getting out hot creating a sizable gap during the first two miles. Unfortunately he started to drop, falling back to 6th during the final mile. Jeremy still attained All-American status and ran a time of 14:45.49, which is one of the top times in Michigan this year.
   Finally we have junior sensation Hunter Jones. Hunter lives in Benzonia, Michigan. Instead of competing at the NBIT  5000 meter, Hunter decided to take on the 5000 at Nike Indoor Nationals. There he competed and won, in 14:20.71, giving him the title of national champion. This time set a new season lead for the state of Michigan and personal best for Jones. Hunter then had a quick turn around where he drove the short drive to NBIT and competed in the mile. He ran a time of 4:08.39 and took 13th. 
   Michigan has always been known for its runners and this generation of athletes is no exception. The goal for these athletes is to keep their heads up and prepare for the outdoor season.