A New Store Hops on Into Grand Ledge
  Ever since Eagles Cafe closed, Grand Ledge has been lacking a coffee shop in its downtown area. Now, a new business has joined the community, Toads. This small cafe has officially moved into Grand Ledge offering a new menu of coffee drinks and foods.
  Christopher Haman, the owner, stated,
  "We got the name Toads from it being my wife's childhood nickname. We came up with the logo design and loved it so it stuck," 
  He went into detail about why they choose Grand Ledge as their location to open a business,
"
"We chose Grand Ledge due to the parks. We spend a lot of time in Oak Park climbing, and hiking Fitzgerald and Lincoln Brick Park, we also love the downtown atmosphere. We are from Dewitt and St. Johns but recently moved out this way."
— Christopher Haman
  Toad's is not just a coffee shop, but a cafe too. They offer drinks and sandwiches as part of the menu. The wooden exterior hides a cozy inside with white brick walls, and Michigan themed decor. There are many decorative objects about Finding Your Adventure in Michigan, due to Michigan's natural beauty and sense of adventure. The store does have a little area where they sell Disc Golf supplies, rock climbing items, dog leashes, collars, and many more various items. Now why would a Cafe sell these? Well Haman said,
  "Our inventory selection just came from items we enjoy, many of the items we carry come from ethical companies, for instance, Leeds Dog Leashes donate a portion of every sale to rescues and shelters in their network, the belts we carry are made out of recycled water bottles." and "We also tried to carry the items the community needed to spend time outside at the parks. Climbing Equipment, Golf Discs and Hammocks."
  Along with the menu, the store offers various coffee's, latte's, sandwiches, milk shakes, kid's foods, chips, soups, and coming soon, salads. 
  A Grand Ledge alumni works at the business, which only makes the place a better stop. The staff is very friendly and makes any customer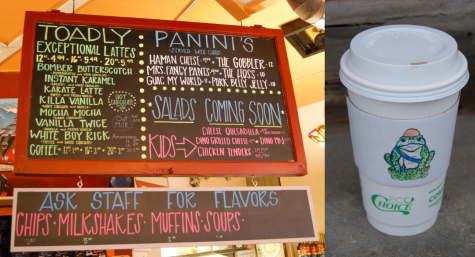 feel welcome when they enter. The business takes the old wooden store front next to Bridge and Main. The store is open weekdays (7am – 7pm) and weekends (8am – 7pm). Consider stopping by for a nice drink or snack.
  They do offer seasonal beverages. Recently for St. Patrick's Day they offered a corned beef sandwich, rainbow hot cocoa, and lucky mint steamer. Both beverages were topped with Lucky Charms. The store has been busy with customers ever since they opened.
  "The most positive part of this adventure is the kind people walking through the doors wearing smiles. The community seems so thrilled that we are here and really dig the atmosphere inside Toads. We love positive energy," Haman said.
  Toad's is a lovely cozy cafe, and has great products to sell. The business is welcomed to Grand Ledge with open arms, and perhaps consider stopping by soon for a nice beverage, snack, or a great place to hang out.