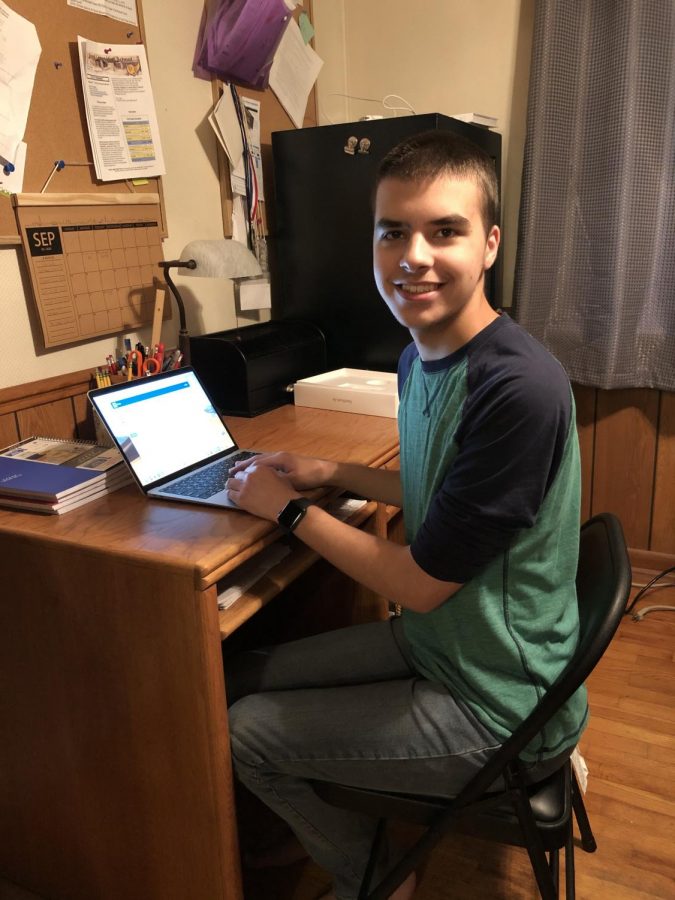 Hello, my name is Garrett I. Callison and I am a GLHS newspaper staff member. This is my first year on the team so you probably do not know me very well yet. I am 16 and this is my junior year of high school. Enough of the basic stuff, I should tell you more in depth details about me. 
In school I am a fan of many subjects, but my main ones consist of science and history. Due to my love of science, my hope is to go into meteorology. Not to look handsome and point at a map, but the in depth research, photography, and predictions of the National Weather Service or storm chasing. My plan is to go to CMU to study, unless there is the very little chance that I could attend the University of Oklahoma. Other things I enjoy in school are the archery team, playing the french horn in band, and playing the mellophone in the marching band. You never know, I might play in the CMU band someday.
Outside of school you will find me practicing archery or my french horn. Other pastimes include video games and board games. I love to build with legos. It is a good way to kill about three hours. I like to spend a lot of time with my family because our lives are basically a sitcom. My family knows everything is right when everything does not work. Another thing you would find me doing is studying hurricanes, weather patterns, and incoming storms. I used to be afraid of storms. I would not even go outside during a windy day.
One of the reasons I was afraid of wind is I have sensory processing disorder. I may look normal, but under the skin and into the brain, it is way different. All five senses for me are amplified.
"It's like all the tabs of your computer are open at the same time, or get into the car to find out someone left the radio volume up all the way," my mom says. 
I also deal with anxiety. Inside my head there is a battle between the side of positive thoughts and deep worries. Do not worry, my positive attitude is one-hundred percent real. I also have dyspraxia which means my arms and legs do not work together. Thanks to that I have been hit by every piece of sports equipment known to man. Lastly, I also have Avoidant Restrictive Food Intake Disorder. 
My mom explains "This is different for each person but for G, although his conscious brain tells him that he wants to eat the food in front of him, his subconscious tells him that the food will harm him." 
It is hard, but this year we are making huge progress. Something I tell myself is "I'm not defined by my disorders, but I define my disorders". 
Here are some likely surprising things about me. I listen to some metal music, I'm conservative, I have a girlfriend, I recently learned how to mow the lawn, and I'm a Climate Change "Denier". Also, I do not have a driver's license, you may see me riding my bike down I-69. I won third place and people's choice award for the school talent show by doing stand up comedy. I'm afraid of everything like dogs, the dark, heights, spiders, recliners, safety scissors, and wind turbines. Just kidding about the last three. Oh, I love puns and dad jokes. 
I asked my family members what is the most surprising thing about me? 
"Garrett's courage astonishes me," my mom said.
"He is much braver than I could ever be," my dad stated. "Doing things like stand up comedy or a solo in choir. The way he is so into the weather. No matter if it is good or bad. He just loves the weather." 
"The most surprising thing about my brother is that he can retain a lot of info on many subjects and be able to explain it to someone without stopping to think about what he needs to say," my older brother John explained.
To wrap up, that's me and you better accept it. If you do not, that is on you. I'm happy with how I am and I would not want it any other way.
Garrett Callison, Opinion Writer
Dec 14, 2020

Homework While Working From Home

(Story)

Dec 11, 2020

Power to the People!

(Story)

Dec 11, 2020

Virtual Nightmare

(Story)

Dec 11, 2020

Online School Helpful or Harmful?

(Story)

Dec 11, 2020

What Should Fuel our Lives?

(Story)

Dec 11, 2020

Life SIMulation Competition

(Story)

Nov 26, 2020

Thanksgiving: An International Holiday

(Story)

Oct 30, 2020

Trick-or-Treating Should Not Fall Victim to Cancel Culture

(Story)