Bullseye in Kentucky
Louisville, Kentucky is holding its annual Archery Nationals, and Grand Ledge's team will be in attendance. The tournament took place from May 12 through the 14. The team will be representing the GLHS archery program in Kentucky.
  Archery is a sport that involves the bow and arrow. Bows are shot at targets and 3D animals. The scores per arrow range receive a zero through ten on each shooting round. Archers shoot from ten meters to fifteen meters away from the target. A practice round before each distance is given. There are three rounds per distance and five arrows are shot in two minutes. Each archer is ranked individually and as a team. Archery Nationals is the biggest archery competition of the year, compared to the local and statewide competitions that occur throughout the school year. Teams from all over the country attend this event to compete.
  Grand Ledge's archery team selected twenty people to compete in Kentucky. The conditions that go into picking this team are average score, grades, attendance, behavior, relationships with teammates, and so on. Practices happened four times a week on Mondays, Tuesdays, Thursdays, and Fridays. Each day students would do pullbacks, pulling a bow pack with an arrow loaded holding it back for an amount of time, on their bows as well as a mock tournament to get a team score, so the team can look for improvement or see how well they are doing overall. Practices are led by a range of coaches, as well as high schooler McKenna Wischmeyer, the team captain.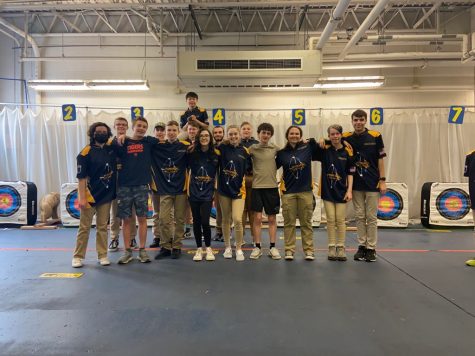 Grand Ledge shot in Kentucky on May 12, 2022. Grand Ledge competed in 3D at 11:15 am and competed in bullseye at 3:00 pm. The team score for 3D was 1596 with 57 ten's, and for bullseye, it was 3208 with 116 ten's (NASP Tournaments). 
  The team stayed hyped throughout the day with their many traditions.
  "[War Paint] We like to put it on, we pump ourselves up, and we just have fun. That is our main goal, it is not about the score, it is about having fun," Team Captain McKenna Wischmeyer said.
  Grand Ledge also received ribbons for their uniforms to remember Coach Benji Crowner, who sadly passed away in 2018. He had a deep connection to the Grand Ledge archery program and it would not be what it is today without his influence.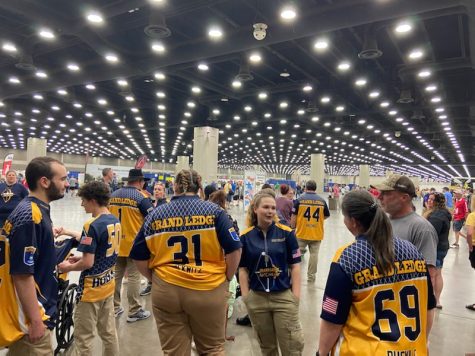 Newcomers to archery nationals enjoyed their time with the team as well.
  "Well, the team is like a family. It's good just to hang out and talk, and be with people,"Sophomore, Cooper Gibbson, said.
The team enjoyed the voyage to Kentucky and the journey that was taken to even get to the national competitive level. The Grand Ledge has set some high standards and has shown its incredible skills. The Grand Ledge Archery program has come so far and it has shown off its great talents at the national competition level.