Entertainment Staff's Quarantine Picks
The writers' favorite picks over Quarantine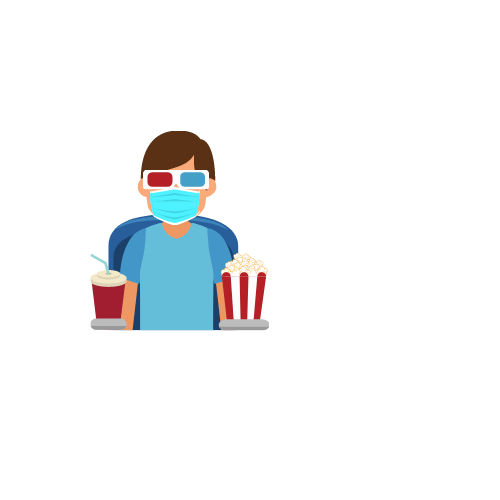 It has been 213 days (and counting) since March 13th, 2020. Since Friday the 13th, the world has, essentially, flipped upside down. A global pandemic, schools closing, (and re-opening?) murder hornets and an election have brought forth an array of problems for everybody. Over these past several months, many students have been able to catch up on an assortment of different television shows and movies. Here at The Comet's Tale, a few writers have chosen their favorite pieces of entertainment over quarantine and wrote a review on them.
The Umbrella Academy is about a grown apart family, made up of several adoptive children named by numbers and all trained as heroes come together to save the world from impending doom. After one of the children, Number five, comes back from his future time travel, he reports about a destroyed world. They try to find out what destroyed the world by facing different problems and challenges.. Vanya, who does not have a super talent, has to fight against other findings.
Luther Hargreeves, Number One (Tom Hopper), Diego Hargreeves, Number Two (David Castaneda), Allison Hargreeves, Number Three (Emmy Raver- Lampman), Klaus Hargreeves, Number Four (Robert Sheehan), Number five (Aiden Galagher), Ben Hargreeves, Number Six (Justin H. Min) and Vanya Hargreeves, Number Seven (Ellen Page) all have their own twisted personalities. They are all played very convincingly.
I watched this show while quarantined and I can just say that it is very entertaining and totally crazy. Sometimes it feels like it is insane and completely out of mind, but in a good way. I really like how the different characters all have their own features and problems, especially number five, who fell in love with a mannequin. All in all,  the Umbrella Academy is a very amusing show which I can definitely recommend.  -Flora Manns
This show is rated TV-14 for language and suggestive dialogue.
Genius. Billionaire. Punk. Prophet. In the 2010 film The Social Network, Mark Zuckerberg (played by Jesse Eisenberg) has come to embody all of these terms. He began work on a new idea, a "billion dollar" idea, in his Harvard dorm room in late 2003. Zuckerberg developed the concept of Facebook, a social media website that allows users to meet and hang out with friends. From the opening scene, the dialogue drives this film. Mark and his girlfriend Erica (Rooney Mara) seem to be talking on different wavelengths, with Mark hopping between two different subjects before she subsequently dumps him. This unique way of creating a "vain genius" displays a whole new admiration to the story. On one hand, he is a genius who goes to Harvard and received a 1600 on his SAT. On the other, he is a narcissistic jerk who is obsessed with reaching a better life and will stomp out anybody who gets in his way. Eduardo Saverin (Andrew Garfield) shines in this film as well, developing a relationship with Zuckerberg as his roommate and co-founder of Facebook while ultimately becoming the CFO underdog towards the end.
Again, the dialogue and score make this the quintessential modern masterpiece of 2010 and the entire decade. Every scene flows so smoothly, complemented greatly by the Academy Award winning futuristic and industrial rock score by Trent Reznor of the band Nine Inch Nails. Despite the confusing and hyper-active feeling of Zuckerberg's programming, the film simplifies these statements and makes the viewer feel completely engaged in this unraveling adventure. -Drew Cornman
This film is rated PG-13 for use of alcohol and some illegal drugs, as well as strong language.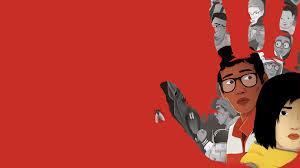 You're gonna have to stick with me on this one because it gets a little bonkers, but hear me out. What if there was a movie about a man who is in love with a woman, and he'll do anything so he can be with her… and also he accidentally cut off his hand, which then came back to life and started searching around the city for him. It sounds weird at the very least, and trust me, it is, but don't let that deter you. This movie is strangely beautiful. I Lost My Body is an animated film from Moroccan writer/director Jeremy Claplin, based off of the book Happy Hand by Guillame Laurant. It follows Naoufel, a pizza delivery guy who's trying to find a purpose. He finds it in Gabrielle, a librarian who he's fallen for. The movie switches between his story and the story of his hand as it comes back to life after an accident led to it being severed. The hand journeys across the city to reunite with Naoufel, facing many obstacles and perils as it does.
This movie stands out to me for many reasons. It has a perfect blend of it's three plotlines, seamlessly switching between Naoufel, his hand, and the beautiful flashbacks that tie the story together. The two-dimensional animation is incredible to watch, the sound design is sometimes disturbingly real, and the synth-heavy score is beautiful, filling scenes with emotion and energy as the story does the rest. Like I said, it's a weird movie, but the story, the animation, the sounds, and just about everything in the movie, is worth the trip.
It's in many ways a classic love story, but a lot of love stories don't quite lean into the concept of a flawed protagonist like I Lost My Body does. It embraces the mistakes that Naoufel makes, rather than trying to redeem him, making his pursuit of Gabrielle feel different from the typical love story plot. It's a truly unique, oddly beautiful, and mildly disturbing take on the romance genre. -Cole Bennett
This movie is rated R for mild violence, mild profanity, mild sexual content, and mildly frightening/intense scenes.
Critic Reviews of I Lost My Body

At first look this show seems definitely out there, the craziness is what makes it so unique. Zooey Deschanel portrays Jessica Day (Jess), a teacher who movies into a loft with three guys after a rough breakup in this 2011 sitcom. Nick, Winston, and Schmidt´s lives drastically change with the addition of a girl roommate. The show follows the ups and downs of these four living together, along with the many relationships, jobs, and challenges each character experiences.
Nick Miller, played by Jake Johnson, is a dropout law school student who now works as a bartender. Schmidt, portrayed by Max Greenfield, is by far one of the most put-together characters on the show. Schmidt obsesses over his looks, and is constantly bringing a new girl home to the loft, but continuously goes back to one specific girl.  Lamorne Morris plays Winston Bishop, a former athlete who is always between jobs. These three all met when they were younger, and now share a loft. Cece, portrayed by Hannah Simone, is a model as well as Jess´ best friend. These five are an unlikely group of friends, but somehow they manage to make it work with each other.
For all of the Friends fans out there, I highly recommend New Girl for the same type of vibe. The show is no longer releasing new episodes. New Girl is one of those shows that once you get into it, it's hard to stop. The writers of the show made the characters all so drastically different, it would be difficult for someone to not relate to at least one of the five. -Megan Reynaert
The show is rated TV-14 for language, suggestive dialogue, and sexual content.
I have been watching Gilmore Girl´s over the last few months during quarantine. The show is about the obstacles that a mother and daughter go through in their life. There are times when they argue and have periods of time apart. But besides those complicated times they are best friends. They have kind of a funny relationship where at some points the daughter seems more-like the mother. 
There are many obstacles including school, work, grandparents, a not-so-good-but-getting-better-slowly father, boyfriends, and an overly involved small town. You can never get bored watching this show. There is always something happening in the lives of these two women. Every single character in the town adds to the humor of the show. I would definitely recommend this show to anyone who enjoys humorous, emotional, and heartwarming shows.- Naomi Tijerina
The show is rated TV-PG for some strong language, sexual situations, and suggestive dialogue.