THE Grand Ledge High School's Favorite Streaming Services
GLHS's favorite streaming services.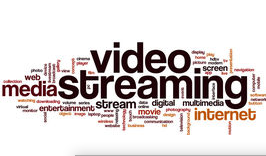 For the average human being, watching and "binging" TV shows have become the new normal for consuming entertainment. Long gone are the several days of waiting in between episodes; most television shows have all of their episodes released at once. Through the power of streaming, watching season after season of shows are now just one click away.
However, choosing just one streaming service can be a problem. The Big Four, as they are called (Netflix, Hulu, Disney+ and Amazon Prime) offer the most content for all ages, while a couple others such as HBO and Showtime major in more R-rated content. At Grand Ledge High School, students were polled to see which streaming service is leading the race.
Blue = Netflix       Purple = Disney+       Red = Hulu      Yellow = Amazon Prime
Of course, most are going to have a preference for certain streaming services. Around 15.3% of students prefer Hulu, with Disney + at 19.3% and 55% for Netflix. Being around for the longest, Netflix has come to have a reputation with consumers and critics by putting out much more quality over quantity, even with a staggering amount of titles that grow almost every day. An overwhelming amount of students replied that the content is superior, with a few preferring the original content exclusive to each platform.
"It has my favorite shows on it and tons of variety," says junior Alyssa Rainsberger. "There are also some good Netflix Originals that you can't find anywhere else." 
Also, Netflix is one of the few services that is completely ad free. When asked their preference on streaming services, one student responded with why paying extra for no ads is not worth it.
"Probably Netflix because you don't have to pay for an extra thing (EX – Hulu Premium) and it has a wide variety of content," answered freshman Rachel Potts.
However, while Netflix may be the cream of the crop for most, it is certainly not favored by all students. Hulu and Disney+ are the next two streaming platforms that are most commonly used, with one student in particular making a strong case for why Hulu's premium subscription offers much better content.
"The price point and content that it offers compared to other streaming services, is almost unmatched. For $55 a month, not only do you get basic Hulu, you also get live streaming functions, making it already better than Disney+ and Netflix off the bat," argues sophomore Joshua Goglin. 
For only being around a year, Disney+ has made its case by offering much friendlier kids content, blockbuster movies, and for being a museum of nostalgia.
"I prefer Disney+ because it has all my favorite movies that I grew up with from Cinderella to Monsters Inc., and it also has a majority of the new movies such as Avengers Endgame, Hamilton, and many more," says sophomore Audrey Burgess.
These three are just a few out of the many different streaming services that students have chosen. Amazon Prime and HBO were not far behind, with a couple others receiving a miniscule amount of votes. Whatever the preference is for binging a new show, there are plenty of services to satisfy what to look for.
https://www.netflix.com/signup
https://www.disneyplus.com/sign-up