How Movie Theaters Are Adjusting To The Global Pandemic
How the movie going experience has changed in a global pandemic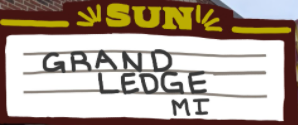 Over the past several months, many businesses have had to adjust to the catastrophes of 2020, especially the Covid-19 virus. Wearing masks, sanitizing and temperature checks became the new normal with no clear stop in sight. For movie theaters, they have had a much bumpier road since the early CoronaVirus stages began in March.
The first month was tricky for movie theaters. Across the country, most were shut down and had trouble generating revenue for the films that were released. Major releases were put on VOD (video on demand) or delayed indefinitely. While many people were hungry for new films, a  local theater got creative with a way to give back to the community. Since movies were being accessed at home, the Sun Theatre decided to give the traditional treat accompanying movie watching.  With monetary donations to the local food bank, this popcorn was given out on April 17th and May 1st. 
Considering how the entertainment industry has been malnourished since early spring, one of the major theatre chains has become stale. According to National Public Radio, Regal Cinemas shut all of its 536 locations on October 8th, due to an "increasingly challenging theatrical landscape." This is no surprise, but it was mainly due to the delaying of major blockbuster films. Christopher Nolan's 11th feature film, Tenet, was slated for a July 15th release date but was consequently moved three separate times, finally landing on a Sept. 3rd release date. The film has accumulated $341.1 million globally, but these results have been very disappointing for a summer flick. Again, the pandemic has shied away many from attending theaters, and these numbers are a failure compared to what Nolan is used to. In 2014, Interstellar, another Nolan film, made $700 million globally, breaking even with its budget of $165 million. 
This new "theatrical landscape" has not been traveled lightly throughout the pandemic. Disney has put its two largest films of the summer on Disney+. Hamilton, the broadway musical that brought in aspects of hip-hop and R&B, has become significantly more popular compared to Disney+'s other release, Mulan. This film, a live action remake, was released with an additional $29.99 fee to watch the film. Although Hamilton had a large following before its release, it was easily accessible, and was included in the $7.00 monthly subscription, with no additional fee. 
(poll paragraph? May cut this last one depending on responses)
While some theaters have opened up, others, including Regal, will not be opening again. Some theaters have found alternatives which have gotten very popular due to Covid. These theaters are drive-ins. This option allows people to watch movies, but at a distance from others., perfect for social distancing. Although, without traditional theaters, streaming services have attained many new  users because new movies are either being postponed or given to the streaming services. Which begs the question; Will people go back to Theaters once the pandemic is over, or will we stay online?
Survey:
Sources in the article:
https://www.forbes.com/sites/scottmendelson/2020/10/25/box-office-chris-nolan-tenet-is-still-one-of-hollywood-top-grossing-original-movies-since-interstellar/?sh=27758a881e78
https://www.npr.org/sections/coronavirus-live-updates/2020/10/05/920367787/regal-movie-chain-will-close-all-536-u-s-theaters-on-thursday
https://www.nytimes.com/2020/03/06/arts/covid-19-movies-theaters-concerts-museums.html